By Suman Pandit, Atal Innovation Mission Team
STEM (short for Science, Technology, Engineering, and Mathematics) education needs to be improved to make the next generation ready for the future. STEM occupations will grow twice in this decade, and 21st century workforce will need to have skills and competencies such as creativity, innovation, critical thinking, problem-solving, collaboration, and communication to tap these opportunities.  However, till a few years back, in India the story of developing STEM and electronics, was full of challenges and despair and it started with a worst scenario of schools.
Hands-on learning opportunities, practical exposure, and mentorship for students interested in STEM and electronics was mostly missing and expectations were just a wish list. The traditional rote-learning methods, exam-oriented curriculum, and insufficient infrastructure and resources actually hampered the development of a creative and innovative culture in schools of India.
To address these challenges and to foster a culture of innovation and entrepreneurship among young students, NITI Aayog of the Government in 2016 launched the Atal Innovation Mission (AIM). And, one of the key components of AIM was the establishment of Atal Tinkering Labs (ATLs) in schools across India.
All these seven years, over 10,000 ATLs have been established in 35 States/UTs. More than 60% of these ATLs are established in government and rural schools, ensuring that students from all backgrounds have access to these transformative learning spaces. Additionally, 96% of the ATLs are set up in co-educational or all-girls schools, promoting gender equality and encouraging girls to actively participate in STEM fields. The impact of this initiative is felt being as far-reaching via engaging millions of students and transforming the educational landscape of the country. These ATLs are providing access to STEM education and innovation skills to over 75 lakh students in every corner of India, creating more than 12 lakh innovation projects till date.
These ATLs have enabled students to learn by doing and get ready for real life problems, rather than by memorizing. The ATLs have also empowered students to apply their STEM knowledge and skills to solve real-world problems that matter to them and their communities. There are more than 6200 mentors of change who are engaged with the ATL community to guide and support students in their innovation journey. These mentors include teachers, professionals, entrepreneurs, scientists, engineers, etc.
The ATL initiative have created a revolution in STEM and electronics education in schools across India by inspiring and empowering young students to become innovators and entrepreneurs. The ATLs have also created a network of stakeholders such as teachers, mentors, parents, communities, industry partners, etc., who support and nurture the innovation ecosystem in the country and have demonstrated the potential of India's demographic dividend and the need to invest in the future of its youth.
And there is already ample evidence to show the successful impact of this journey. To demonstrate the point, let's briefly talk about a few case studies here:
Case Studies and Success Stories
Team Saaf Water
The success of the ATLs has not gone unnoticed on the global stage. An ATL alumni team's innovation, 'Saaf Water', recently won $200,000 in IBM's Call for Code challenge. Saafwater is an AI-IoT platform that monitors water quality in realtime to forewarn contamination, and effectively communicate corrective measures to improve it. The members met during the Student Innovator program conducted for top ATL Marathon winners.
Ravinder Bishnoi (KieKie Pvt Ltd)
Ravinder hails from Rajasthan and is currently pursuing his B.Tech. It was his resilience to work on solving noise pollution that he decided to create a device to address it. He worked on Vehicle Horn Control Assembly (VHCA), which blocks the horn in certain areas and also reduces its intensity in horn prohibited areas. In the year 2017 he participated in the ATL Marathon and made it to the top. It was during the ATL sessions at school that his curiosity was fuelled wherein he worked on his prototype.  He was also offered the Student Innovator Programme (SIP) through Atal Incubation Centres (AIC) and went on to participate in an Ideathon organized by Atal Community Innovation Centres (ACIC) RISE situated in Mohali, Chandigarh. In the Ideathon organized by ACIC RISE he secured 1st Rank. Thereafter, he got incubated at ACIC RISE as KieKie Private Limited. His start-up also bagged a grant under Atal New India Challenge (ANIC) 2.0 bagging a funding of Rs 1 crore.
Mohnish Dhruv (Atal Divyang Rath)
The Atal Divyang Rath project is an innovative chair-cum-vehicle that helps specially abled individuals use washrooms without constraints. The project was led by Mohnish Kumar Dhruv, a young innovator from Bilaspur, Chhattisgarh, who comes from a humble background and has a passion for social change. The project has won several accolades, including the National Inspire Award and the opportunity to present their product to the Prime Minister of India, Shri Narendra Modi during National Technology Week 2023. The project aims to file a patent for their invention and improve the lives of countless specially abled individuals across the country.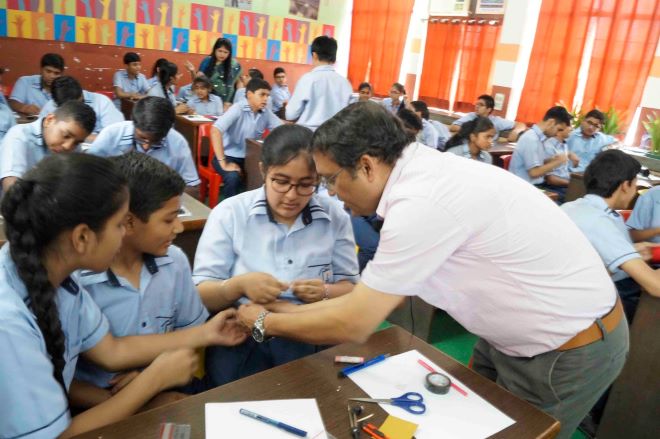 Know Atal Tinkering Lab
What is an Atal Tinkering Lab?
An Atal Tinkering Lab is a dedicated workspace within a school where students from classes 6 to 12 can access various tools, equipment, and materials to tinker, experiment, design, and create innovative solutions for various social and environmental challenges. An ATL provides students with exposure to emerging technologies such as Robotics, Mechanics, Internet of Things (IoT), Artificial Intelligence (AI), 3D printing, etc. An ATL also provides students with mentorship from experts, access to online resources and platforms, and opportunities to participate in various competitions and events. ATLs have become a breeding ground for young innovators and entrepreneurs. Through hands-on projects and activities, students are encouraged to think outside the box, identify real-world problems, and develop innovative solutions. This ecosystem of innovation has led to the emergence of young student-led startups and ventures, enabling students to turn their ideas into reality.
Key Initiatives of Atal Tinkering Labs
ATL Marathon: AIM organises the ATL Marathon every year, a nationwide competition aimed at promoting innovation and entrepreneurship among young students. The competition includes a series of challenges and tasks, and winners will receive prizes and mentorship to develop their ideas further.
ATL Tinkering Curriculum: The ATL Tinkering Curriculum is a comprehensive curriculum designed to provide students with hands-on learning experiences in STEM fields. The curriculum includes modules on science, electronics, robotics, open-source microcontroller boards, sensors, and 3D printing.
ATL Equipment Manual: The ATL Equipment Manual is a guidebook that provides detailed information on the equipment and tools available in Atal Tinkering Labs.
AIoT integration in curriculum: In partnership with CBSE and Intel, AIM has integrated Artificial Intelligence (AI) and Internet of Things (IoT) into the CBSE School Curriculum through this initiative. The aim is to make 'Tinkering' a part of the formal pedagogy and connect it with emerging technologies like Artificial Intelligence.
ATL Student Innovator Programme & Student Entrepreneurship Program: ATL SIP and SEP are two programmes that are given to top performing students of ATL Marathon Competition. The ATL SIP provides students with mentorship, training, and exposure to further develop their innovations into market-ready products via internships in collaboration with corporate partners and incubation centres. The top students of SIP Programme become a part of the Student Entrepreneurship Program(SEP) where they turn their products into startups and ventures.
ATL Community Day: ATL Community Day is a nationwide event aimed at promoting innovation and entrepreneurship among young students who donot have access to ATLs. Community Schools situated near the ATL schools are invited to the lab to experience tinkering and project building. The event includes a series of workshops, talks, and competitions.
ATL Tinkerpreneur: ATL Tinkerpreneur is a 7-week long virtual summer bootcamp in June July which equips students with key digital skills and frameworks to create their own online venture by the end of the bootcamp. The last edition of the bootcamp witnessed 5000+ team innovations, the top 100 of them got internship & funding opportunities from Indian School of Business.
The Future Journey
By fostering a culture of innovation, creativity, and entrepreneurship, these labs are empowering young minds to become the next generation of thinkers, problem solvers, and leaders. With their inclusive reach, recognition on the global stage, and integration of advanced technologies, the ATLs are shaping the future of education in India and paving the way for a more innovative and prosperous nation.
There is still a long way to go for India to become a global leader in innovation and technology. There is a need for the STEM and Tinkering movement to reach more schools and students, especially in rural and remote areas. There is also a need to create more linkages and collaborations between the ATLs and other stakeholders such as universities, research institutes, etc.