The spat between Canada and India over killing of a 'terrorist', a PIO who Canada says was now its citizen by unknown gunmen in British Columbia in June this year, has taken an ugly turn with diplomatic expulsions from both countries. The frosty ties of several months on the issue of support, protection and promotion that Sikh separatists have been receiving from the current Canadian government despite India's objections, are now risking these ties which date to the inception of British Empire in India from 1858.
The Ministry of External Affairs in New Delhi has issued an advisory for Indian nationals and Indian students in Canada as radical Sikh elements have issued open threats to Indian community living and studying in Canada. "Given the deteriorating environment in Canada, Indian students in particular are advised to exercise extreme caution and remain vigilant," says the Government of India advisory.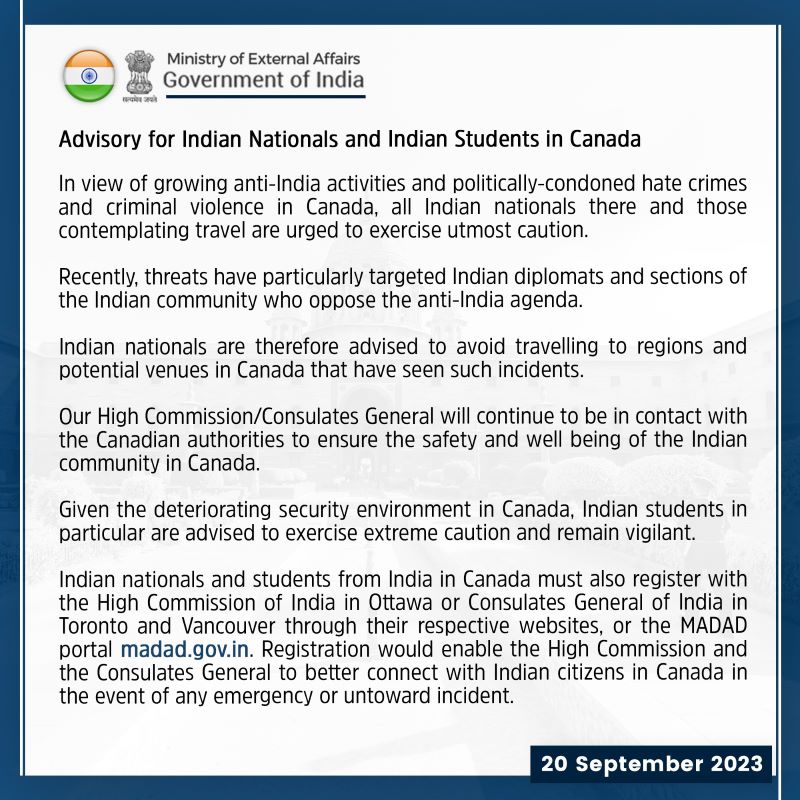 Indian students account for about 34% of all international students studying in Canada. With 1.8 million students are expected to go for studying abroad from India in 2024 as per ICEF report, the deteriorating relationships between the two countries can cast cloud over the share going to Canada according to experts.
Canadian institutions are known for their high-quality programs, research opportunities, and supportive learning environments. Additionally, Canada's welcoming immigration policies provide opportunities for international students to stay and work after graduation. Moreover, there is a vibrant and sizeable 18 million Indian diaspora present in Canada – giving a feeling of comfort and familiarity to the Indian students arriving in Canada. All of this attracts a lot of Indian students to its shores. So, it may also shatter dream of many a students who are planning to study in Canada.
Indian students make a significant contribution to the Canadian economy. According to data from the Canadian Bureau for International Education, international students overall contributed approximately CAD 21.6 billion to the Canadian economy. From an academic perspective, Indian students bring diverse perspectives, experiences, and knowledge to Canadian classrooms, contributing to a vibrant and enriching learning environment.
The expenditures of Indian students on tuition fees, accommodation, daily expenses, transportation, and other goods and services have also had a positive impact on local businesses and the economy. Additionally, many Indian students choose to stay in Canada after graduation, contributing to the country's skilled workforce and economic growth.
When everything was going great between the two countries, it is unfortunate that Canadian government started patronizing and unleashing Khalistani extremists on its streets against Indian unity and symbols with a sinister design of breaking up India.
"It is unfortunate that diplomatic relations between our two countries are getting strained, if not salvaged and put back to normal course, it may have an impact on various aspects, including educational opportunities. If at all these political maneuvers were to curtail the flow of Indian students to Canada, it would undoubtedly have a huge impact on the Canadian higher education sector as well. Since Indian students are a significant demographic among international students studying in Canada, their absence would be felt both academically and economically. Their absence could potentially also impact the overall diversity and cultural exchange within Canadian universities and colleges," feels Pawan Adhikari, Founder-CEO of DP Cube Learning and Skills Private Limited.
In such a scenario Indian students may then be forced to look towards other study abroad destinations like US, UK, Australia etc. Other countries like New Zealand, Ireland, Germany, France and Netherlands are also vying for Indian students. Canada's potential loss could be other countries gain.
"However, it's important to remember that the field of education is generally left secluded from political relations. While political tensions may exist, studying abroad is generally viewed as an opportunity for personal growth, cross-cultural understanding, and academic development and therefore should be kept as such," adds Adhikari.
In conclusion, the common opinion on the Canadian stance is that of irresponsibility towards an important international member country and partner. Radicalization has been repeatedly proven to become the breeding ground for terror in the whole world. Canada if continues to conduct in this manner will be sitting herself on a volcano in some years that can potentially tear her with terror and crime.