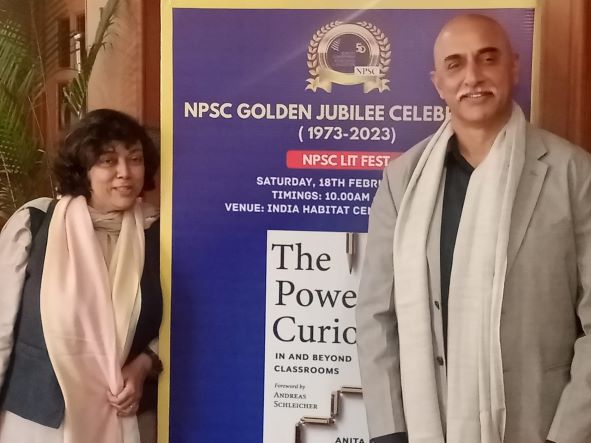 Anita Karwal (IAS), who retired in November 2022 as Secretary Department of School Education & Literacy, has penned  a book titled 'The Power of Curiosity—in and beyond classrooms' jointly with two other authors (the names not revealed as yet).  Karwal, who has already authored a couple of books including a travelogue Kailash Manasarovar: Cycle Rides Soul Journeys inspired by adventure expeditions & sports of her husband and Director General NDRF. Atul Karwal, has also served as the CBSE chairperson.  So, this book being published by HarperCollins and released in June this year  in her words is some total of hundreds of experiences of 16-17 years in school education that will resonate will a lot of people in the school education ecosystem.
Speaking at the golden jubilee celebratory event of National Progressive School Conference (NPSC), Ms Karwal shared that her book, a work of fiction, is full of humor and fun with classrooms as characters. Tracing the idea of writing this book, the former education secretary said that as soon as she took over in 2020, the Covid struck and as such she became 'Covid secretary' confined to office with long hours and tension mounting all around on phone, online meetings and messengers.  'It is then when a colleague walked in and said let's do something creative when pressure was all pervasive," she said.
The book has been in works since the Covid time and also NEP 2020 inspired. "NEP is not going to work until the learning is inquiry and discovery driven.  If the curiosity is not fostered, the goals of NEP won't be achieved," she said while adding that she hopes after school NCF is out, the examination oriented schooling will change for better.
Atul Karwal, who was also present at the event in a reply to a question on importance of sports and reluctance of parents and schools said that sports teach courage, which is needed for everything in life.