The Union Minister for Finance and Corporate Affairs, Smt. Nirmala Sitharaman departs from North Block to Rashtrapati Bhavan and Parliament House, along with the Ministers of State for Finance, Shri Pankaj Chaowdhary and Dr. Bhagwat Kishanrao Karad and the senior officials to present the Union Budget 2022-23, in New Delhi on February 01, 2022.
What #The Union Budget 2022 contains for #Education is a developing story as more and more insights and perspectives emerge. However, one thing is clear 'the learning deficit caused by two years of digital education will be actually remediated by more digital education?
Education Minister of India, Dharmendra Pradhan, also says so. # AatmanirbharBharatKaBudget paves the way to build resilient mechanisms for delivery of quality education, he tweeted.
Thank FM @nsitharaman ji and PM Shri @narendramodi ji for allocating a record ₹ 1.04 lakh crore expenditure outlay on education in the #AatmanirbharBharatKaBudget. This is for the first time that expenditure on education is set to cross 1 lakh crore mark in an FY. pic.twitter.com/qNV8sij4Nq

— Dharmendra Pradhan (@dpradhanbjp) February 1, 2022
Meanwhile coming to budget allocation for education there has been an increase of 11.86% from FY 2021-22. Education gets an allocation of Rs 104277.72 Cr in the Union Budget 2022-23. This is Rs 11, 054.72 Cr more than the last year's budget of Rs. 93,223 Cr The share of the Department of School Education and Literacy (DSEL) is Rs 63449.37Cr and that of Higher Education is Rs 40810.34 Cr. The share of central sponsored schemes in DSEL budget is Rs 50694.11 Cr and includes flagship sachems such Smagra Shiksha Abhiyan and PM Poshan (formerly Midday Meal ) scheme.
The Union Government has allocated Rs 40,828.35 crore to the Higher Education Department for the next financial year, which is an increase of 6.6% over the FY 2021-22. School education Budget for 2022-23 is at Rs 63,449.37 crore, nearly Rs 9,000 crore more than FY 2021-22.

— ABVP (@ABVPVoice) February 1, 2022
The message of the Education budget seems to be informalization of education in Amritkaal (a period referring to of 25 years to 2047) according to many. They say the focus on e-learning in the budget is another step towards pushing the exclusionary agenda of the NEP further to normalise informalisation of education.
Digitisation is not a solution to the grassroot problems! The focus on e-learning in the budget is another step towards pushing the exclusionary agenda of the NEP further to normalise informalisation of education!#Budget2022 #AntiPeopleBudget#LollipopBudget pic.twitter.com/5ndPdFH5uN

— Mandvi (@MandviMishra4) February 1, 2022
Another perspective emerging is that budget of children (Ministry of WCD) has been reduced. There is marginal reduction in Sakshan Anganwadi and Poshan 2.0  scheme  as well.  Experts says allocations for anganwadi services, supplementary nutrition, and POSHAN Abhiyaan are grossly inadequate and also not even keeping pace with inflation.
But the edtech industry is cheering digitization push. But first let's know what exactly the Finance Minister said in her budget speech on Skill & Education Sector: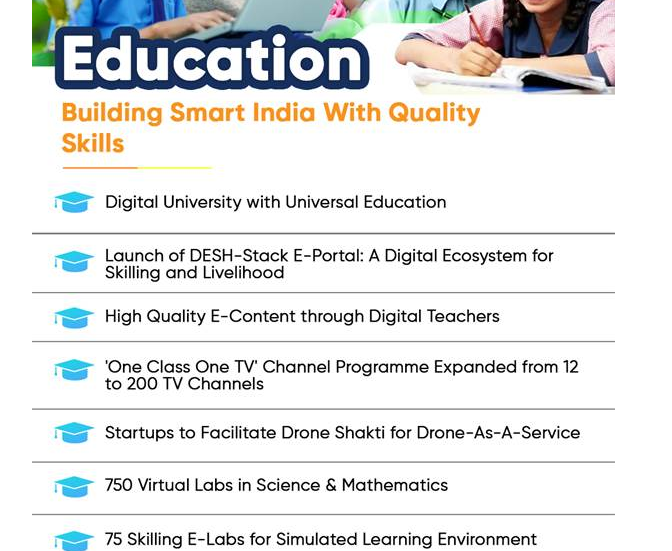 Due to the pandemic-induced closure of schools, our children, particularly in the rural areas, and those from Scheduled Castes and Scheduled Tribes, and other weaker sections, have lost almost 2 years of formal education. Mostly, these are children in government schools. We recognise the need to impart supplementary teaching and to build a resilient mechanism for education delivery. For this purpose, 'one class-one TV channel' programme of PM eVIDYA will be expanded from 12 to 200 TV channels. This will enable all states to provide supplementary education in regional languages for classes 1-12.
In vocational courses, to promote crucial critical thinking skills, to give space for creativity, 750 virtual labs in science and mathematics, and 75 skilling e-labs for simulated learning environment, will be set-up in 2022-23.
High-quality e-content in all spoken languages will be developed for delivery via internet, mobile phones, TV and radio through Digital Teachers.
A competitive mechanism for development of quality e-content by the teachers will be set-up to empower and equip them with digital tools of teaching and facilitate better learning outcomes.
A Digital University will be established to provide access to students across the country for world-class quality universal education with personalised learning experience at their doorsteps. This will be made available in different Indian languages and ICT formats. The University will be built on a networked hub-spoke model, with the hub building cutting edge ICT expertise. The best public universities and institutions in the country will collaborate as a network of hub-spokes.
Skill Development
Skilling programmes and partnership with the industry will be reoriented to promote continuous skilling avenues, sustainability, and employability. The National Skill Qualification Framework (NSQF) will be aligned with dynamic industry needs.
Digital Ecosystem for Skilling and Livelihood – the DESH-Stack eportal – will be launched. This aims to empower citizens to skill, reskill or upskill through on-line training. It will also provide API-based trusted skill credentials, payment and discovery layers to find relevant jobs and entrepreneurial opportunities.
Startups will be promoted to facilitate 'Drone Shakti' through varied applications and for Drone-As-A-Service (DrAAS). In select ITIs, in all states, the required courses for skilling, will be started.
Clarification in relation to 'Health and Education cess' as business expenditure
The income-tax is not an allowable expenditure for computation of business income. This includes tax as well as surcharges. The 'Health and Education Cess' is imposed as an additional surcharge on the taxpayer for funding specific government welfare programs. However, some courts have allowed 'Health and education 'cess' as business expenditure, which is against the legislative intent. To reiterate the legislative intent, I propose to clarify that any surcharge or cess on income and profits is not allowable as business expenditure.
(To be updated)
Reactions from Industry leaders/Edtechs/Others
" Continued emphasis on mobile connectivity and broadband for economic development, ahead of the 5G rollout, will have a cascading effect on the growth of edtech in India. The proposal of the digital university is a pathbreaking initiative that is in line with the requirements of the post-pandemic world. Moreover, expansion of PM eVIDYA using the Internet, mobile phones, TV and radio mediums and emphasis on the newer technologies like blockchain, drones, etc., will pave the way for harnessing these technologies in the education sector. Reorientation of skilling schemes is a welcome step if we were to realise the advantage of the demographic dividend.
Moreover, an extension of incentives for one year for startups, One  Nation, One Registration and emphasis on drone technology will catalyse the growth of startups in India. While much will hinge on the implementation of these measures, the Budget marks a formidable effort to usher in tech-enabled growth." –Rohit Manglik, CEO, EduGorilla
" The Union Budget 2022 takes forward the vision of universalizing quality education as enshrined in the National Education Policy 2020. The formation of Digital University, as announced in the budget, will be a laudable initiative. The Digital University will help to make world-class education accessible in different Indian languages to all students even in far-flung areas. The simultaneous proposal to train teachers to build their competency and empower them to develop quality e-content will ensure better learning outcomes. I welcome the move to set up 750 e-labs in science and mathematics and 75 skilling e-labs that will nurture scientific temperament and critical thinking skills important for the 21st century learners. Going beyond the e-learning initiatives, the government has rightly decided to designate 5 academic institutions as 'centres of excellence' to deliver courses in urban planning and design. The move will take forward the vision of India-specific urban development. The budget 2022 is aimed at providing a major push to e-learning, reduce learning gaps and make education inclusive." –-Shishir Jaipuria, Chairman FICCI Arise and Chairman Seth Anandram Jaipuria Group of Educational Institutions
"Focus on digitalization and virtual education especially to bridge the gap for the rural and underprivileged during pandemic while at the same time giving access at different levels and a resilient education process to ensure minimum quality education is available to all is laudable  – whether through skilling portals, skilling courses through ITIs, Education TV channels for Schools, E-Vidya scheme, high quality digital content and digital university. NEP was not mentioned but we hope to see sufficient outlay. These are initial reactions to the budget as the devil is sometimes in the details." –Sushma Paul Berlia, Chairperson, National Council on Ease of Doing Business, ASSOCHAM
"There could not be a better time to build a state of the art digital university for Bharat and rapidly accelerate the democratisation of high quality university and professional education that the youth of our country would receive. Expanding access to digital learning tools as students look to get back to school after almost 2 years is another laudable initiative as is the announcement to leverage agricultural universities to modernise agriculture in India and enhance the productivity and innovation in the sector. These are welcome initiatives and should be supplemented by a robust but practical policy and regulatory framework around online and digital learning in India." –Amitabh Jhingan, Partner, EY Parthenon Education Strategy Practice and EY India Education Leader
"The decision to establish the digital university is a disruptive and futuristic decision that will benefit a large number of students even from the remotest part of the country by making world-class education accessible. This will surely give wings to the dreams of deserving students and meet the goal of providing high-quality education to all students across the country." –Dr. Dishan Kamdar, Vice-Chancellor, FLAME University  
" Enhancing e-content quality, launching a portal for upskilling, instituting digital universities, and easing operations of foreign universities will not only enhance a student / learner's exposure but will seamlessly integrate offline and online modes of education to enhance learning outcomes. We congratulate the Indian Government for presenting a progressive and promising budget that furthers the cause of digitization, governances and learning and growth for all. We are confident that the year 2022-23 will be a turning point in the history of Indian education as we move towards building an inclusive, digitally empowered and technologically advanced education system for all." – Raghav Gupta, Managing Director, India and APAC, Coursera: 
"I think it's a great step to extend "One class One tv" to 200 channels. It will reduce the inequity in access to education for children without the internet and digital infrastructure while also making the content available to them in their local language. A National tele mental health program to support the mental wellbeing of families and revamp of 2 lakh Aanganwadi centers also holds strong relevance considering the impact the closure of schools and the pandemic has had on the lives of people. It will be good to link this back to the operationalization of NEP 2020's compulsory education for children starting 3 years of age as part of the budget, who have been severely impacted by the pandemic in the most crucial way." –Sonali Khan, Managing Director of Sesame Workshop India
"What should be noted is that the govt did emphasize on the digital adoption through its E-content delivering mechanism, imparting knowledge through various mass media is something that govt should be applauded for. But it would have been great if the special attention had been on the training of teachers with adequate resources and the leveraging of technology." –Rajeev Tiwari, Co-founder at Stemrobo Technologies
"The pandemic has completely altered the way of learning and has increased the pace of digital adoption in the education sector. With improved digital infrastructure and the new initiatives introduced by the government such as the 'One class, one TV ', strengthening online education, quality education can now be possible.
As Educators we should realize Technology has opened up lots of possibilities to improve the quality of education. Tech can be used for professional development of Teachers and also to get assessment insights from children. We can safely say that Technology has the potential to solve some of the traditional challenges and pandemic related challenges as well." –Chitra Ravi – Founder and Chief Executive Officer at Chrysalis
  "The proposed launch of the Digital DESH e-portal will immensely help in the skilling, upskilling & reskilling of our youth which is indispensable at this hour. Overall, the budget has focused on the promotion and implementation of digital education, skilling and reskilling, training of teachers which will, in turn, helps in providing quality and world-class education to the students and will provide impetus to the education sector". –Monica Malhotra Kandhari, MD, MBD group
 "The PM eVIDYA scheme's 'one class, one TV programme' initiative is an interesting effort to deliver educational programming via radio and DTH channels to people without internet access. The quality of explanations and associated support for doubts will play a big role in making this successful. We are working on the implementation of this with a State Government and exploring mechanisms like missed calls, answering questions through SMS, etc. to make such programmes interactive and therefore impactful, added Ramya." –Ramya Venkataraman, founder & CEO of Centre for Teacher Accreditation (CENTA)
 "We welcome the government's thrust towards upskilling the youth and digitization in the Union Budget FY 23 announced today. New initiatives such as digital DESH e-portal for skilling, the expansion of PM's eVIDYA scheme, and a digital university are not only innovative but also an encouraging boost to the education sector; and will provide students with equal opportunities across rural and urban regions. While we were hoping for the rationalization of 18% GST in online education services and some tax rebate online learning programs, we are excited to see the government adopt a collaborative strategy that allows world-class universities to offer courses in financial services and technology free of Indian regulations in the GIFT city. Moreover, it is heartening to see that the Budget also included steps for the empowerment of teachers, enabling them to facilitate better learning outcomes. Finally, we are thrilled about the animation, visual effects, gaming, and comics (AVGC) Taskforce, as it has the potential to create immense employment opportunities for the youth" – Akshay Munjal, Founder & CEO, Hero Vired .
National Tele mental health centres is a good initiative towards the awarness of mental health, will help people to recover from stress and anxiety due to the Pandemic and lockdowns..-Dr Mukesh Kwatra, founder of Smiling Tree
"The budget certainly looks to be forward looking and promising as the AVGC (Animation, Visual Effects, Gaming and Comics) industry in India happens to be worth about 40 billion dollars today and would be growing to about 60-70 billion dollars by 2027/28. This is a very welcoming step keeping in mind the growth in AVGC industry, augmenting global demands for quality content and the current resource crunch of the trained and skilled individuals. We sincerely look forward to seeing an ecosystem being developed for the same.'' –Dr Manoj Singh, CEO,  RUBIKA India
It is heartening to learn that the finance minister emphasised on the National Skill Qualification Framework. The skilling initiative announced in the budget will explore the untapped potential amongst the Indian youth, boosting their employability with dynamic industry needs. Training teachers to use better in teaching outcomes and equip them with necessary skills is the need of Hour. The Digital Ecosystem for Skilling & Livelihood e-portal provides ease for students to enable the discovery of relevant jobs, entrepreneurial opportunities among citizens. Government will soon roll out 5G telecom service which is the most needed part of the Virtual classes. From opening a Digital University to expanding the reach of the PM e-Vidya programme to more students, the budget is focused on filling the learning Gap. –P.C. Chhabra- Executive Director, Sanskriti University
"I was particularly happy to notice the mention of virtual labs and e-labs to give skill training online. Both these elements can transform the mere access to education using the internet to high impact and rich learning experiences. At BITS PIlani's Work Integrated Learning Programmes division, we have used digital labs for a few years now and believe that in several domains virtual & digital labs can enable learners to practice what they have learnt in a safe environment without going to a physical lab. Virtual & e-labs could be a boon for learners in a vast country like ours who do not have access to good physical labs infrastructure". –Rajiv Tandon, CEO-Executive Education at BITS Pilani WILP 
"The thrust on green economy in the budget is very encouraging. It has the potential to increase the participation from private players significantly. While this segment has seen a fivefold increase in workforce employed  by the sector in the last 6 years, the focus from the government will boost it further. Renewable Energy, Waste Management & Green transport is expected to generate more than 3.3 Lac Jobs in next few years. Talent will be required across jobs such as rooftop solar power generation, manufacturing of solar panel modules, inverters and converters and end-use components of LED bulbs and energy-efficient pumps. 
The Budget's approach towards EV's is also expected to create a huge demand for talent mainly in the space of Design, data systems, Battery, and Software. Not only in metros the Green Energy revolution will impact rural employment too. Around 13% of Jobs created through the revolution of Green Energy will be in rural towns thus enabling in declining the problem of unemployment. "- Munira Loliwala, TeamLease Digital
The launch of the Digital DESH e-portal and the re-orientation of skilling programs for our youth will increase efficiency and provide career opportunities. A revamped agricultural syllabus addressing the demands of natural, zero-budget, and modern organic farming would increase youth enrollment and their interest in alternative and contemporary agriculture techniques. We will implement this in our Bachelor's program in Agriculture. For a university like ours that is focused on startups, a dedicated TV channel program as part of digital inclusion will provide students with quick access to the latest developments in their fields of interest. A dedicated fund for incubating startups would have been a great move, although Tax incentives for startups incorporated until March 31, 2023 comes as a relief. Creating an automous National Education Technology Forum (NETF) will give a boast for free exchange of ideas for advance learning and assesment in higher education, last but not the least, the supplementary education to compensate for the loss of last 2 years will enable students to bridge the knowledge based gap, due to unplaned closure of schools and colleges." –Adi Rishabh Jain, Vice President of Swarrnim Startup & Innovation University
"Extending the Digital India mission to strengthen online education, the Government's plans to launch a Digital DESH e-portal for skilling, upskilling, and reskilling of the youth is a significant move and is in sync with the evolving times. The newly announced budget is very new age as it talks about establishing digital universities which in turn, shall accelerate quality output within the country. We welcome the introductions, as upGrad is equally focused towards driving maximum career outcomes for its learners and such initiatives will further support our mission. Clearly, accessibility and quality education are at the centre of GoI's initiatives which assures that we are moving in the direction of achieving the United Nations SDGs, as a nation. Innovative mechanism for imparting knowledge, teacher's training programs, and high-quality regional content for e-learning will be the focus areas for us and we are glad to see the national support towards the sector." –Mayank Kumar, Co-founder and MD, upGrad
  "The Finance Minister has unveiled a Budget that aims to bridge the economic gap between India and Bharat. The proposed policies are an inspiring start in what will hopefully provide stimuli for continued growth, leading us closer towards our goal of achieving sustained acceleration! I welcome the focus on digital aspects of education and creating greater access for students with structured, high-quality content. The announcement of Digital University is most welcome and in line with the trend of online schools across the country. But, it misses the opportunity to leapfrog with more significant innovation and investment for improved access, equity and affordability. The structural flaws of the education sector and problems on the ground could have been addressed. Exciting times are ahead for Digital Education." – Yeshwanth Raj Parasmal, Co-founder, 21K School
"An innovative and path-breaking initiatives of digital university and One Class One TV Channel was a much needed scheme to help overcome the loss of learning due to the pandemic. This much required shift to the digital learning will accelerate the growth of ed-tech companies and will fuel growth within the sector. " –Avinash Kumar, Founder, Credenc
"Budget really builds on the digital transition in education and takes measures to strengthen and broad base it. One key initiative is the creation of high-quality content which can be delivered through multiple means like mobile, cloud, TV etc. along with professional development of teachers to equip them in using digital tools and pedagogies. This will help towards improving the quality of learning outcomes. Another significant initiative is a creation of a digital university which will deliver quality education to students across the country using remote delivery." -Vinay Sharma, CEO & Director – Convergia (S Chand Publishers)
 "The Finance Minister's announcement to set up a digital university to develop and provide access to digital education tools generates positivity in youth, towards developing 21st-century skills. If it's realised, it will be one-of-its-kind digital initiatives in the history of developing and progressive economies.
As per the FM, the digital university will be built on a network hub and spoke model. To offer the best practices, it will invite collaborations with the best institutions in the country. India should also look at partnerships with overseas universities towards preparing the youth for global jobs.
Higher education industry has great potential. However, there is a need to refine the existing machinery while ending the pursuit of obsolete goals, to ensure that HE institutions are preparing the students for the changing world of work." –Ravneet Pawha, Deputy Vice President (Global) & CEO (South Asia), Deakin University, Australia
"The 2022 Budget saw many missed expectations for SMEs and Start-ups. As one of the fastest growing contributors to GDP, the SaaS sector should be promoted more by the central government. Share allocation process for start-ups to be simplified. Low cost tech education in Tier 3 and smaller towns is a huge must, as supply of skilled tech workers is at an all time low compared to demand. Getting government contracts for tech start-ups is still very complicated and should be made easier. Labour Law reforms for tech companies would be appreciated too. The govt needs to stand behind Indian SaaS companies to make India the no. 1 SaaS exporter in the world. Hopefully we will see some of this in next year's budget". –Arjun Gupta, Founder, Courseplay