On March 8, the smart business district of GIFT City (Gujarat International Finance Tec-City) in Gujarat, India's first International Financial Services Centre (IFSC) under Special Economic Zone Act, 2005, witnessed history being created with the entry of first-ever foreign university into India. Deakin University, Australia is going to set up an international branch campus (IBC) in GIFT City, 25 Km from Gujarat state capital, Ahmedabad.
Incidentally, this is also going to be first-ever overseas campus of the 49-year-old Australian university ranked in top 1% of universities worldwide in 20 subjects in QS World University Rankings 2023. It has six campuses within Australia. No doubt, this announcement timed with the visit of the Prime Minister of Australia, Anthony Albanese to India, heralds a new era in Australia-India education collaboration, one in which innovation and partnership will be the keys to unlocking an enriching and mutually beneficial relationship and is likely to leave an indelible mark on the fabric of both nations.
Prime Minister Albanese of Australia, who graced the announcement event by being personally there, said, "It gives me enormous pleasure to acknowledge that Deakin University will be the first university to establish a branch campus in India ever. It is quite an achievement! This is an exciting beginning for stronger educational, commercial and cultural relationships."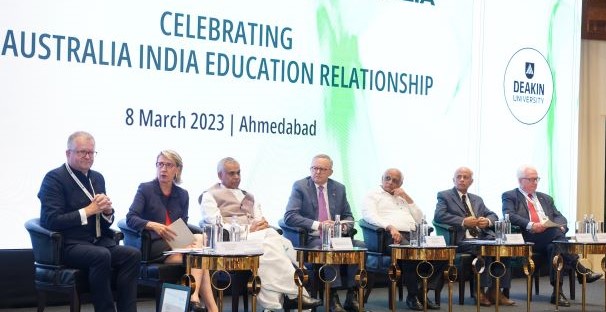 The intention of  the Gujarat government behind making GIFT city a model SEZ was also marked with the Governor of Gujarat, Acharya Devvrat and Chief Minister, Bhupendrabhai Patel joining the visiting Aussie PM for the event. Deakin's Chancellor John Stanhope AM, Chairman of GIFT City, Sudhir Mankad, and CEO of Universities Australia, Catriona Jackson were also present.  Professor Iain Martin, Vice-Chancellor of Deakin University, leads this initiative.
While consultation process is underway to finalize entry of foreign HEIs into the country under UGC mandate, the surprise but pleasant announcement in the GIFT city underlines there are more than one models and modalities that will define future engagements of states with foreign HEIs. Tapan Ray, Managing Director and Group CEO, GIFT City put it more emphatically, "The establishment of the world's first international branch campus in GIFT City by Deakin University will open new vistas for aspiring students as well as for world class educational institutions to operate from Indian soil. This will enable students to access best in class education right in their home country."
Professor Iain Martin, while interacting with media persons a day after the announcement event in Ahmedabad, said in Delhi that the Deakin University IBC will be an extension of parent university in every sense of the word and will be governed by the same rules and regulations applicable back home. This is also the requirement under the SEZ Act. "This is a first for us as well as GIFT City administration, so we both are going to be learning on the way. While every process from eligibility to delivery and assessment will be the same, we would like to give it an Indian flavour with local case studies and linkages with industry," he added.
Deakin University IBC plans to start two master's degree courses, one in Cyber Security and the second in Business Analytics. According to Prof Martin, GIFT city is suitable for post-graduate courses and there is an ecosystem of industries (about 200) already on the ground. "As industrial projects, cross-disciple hands on learning and industry relations is part of Deakin's core education delivery, we find it an enabling ecosystem," he said. Also, while the IBC campus will be about 25000 ft, the social infrastructure will be shared with neighbourhood industry ecoystem. The university is in talks with a few developers to establish a 25000 feet 'look and feel like Daekin campus.  Daekin University will be investing Aus $ 4 million in setting up the operations for this IBC.
The IBC has firm plans to admit first of its students in the first or second trimester of 2024 and will have 50-60 students in each program. The fee has not been finalized as yet but it will be about half of expenses in Australia. Eligibility will be undergraduate degree and preferably a background in the domain areas. English test will be mandatory for Indian students.   While the mobility between this IBC and mother campuses and vice-versa will be permitted, but the university wants to make it clear, students admitted in IMC won't have post-study work right in Australia though an Australian qualification would definitely give them an advantage of pursuing jobs as skilled migrants.
Quite clearly, a new chapter is unfolding in the Indian higher education sector which will be watched closely for almost everything!
…AN