'Vidyanjali'- a school volunteer programme first launched in June 2016 and then in 2021 as Vidyanjali 2.0 in 2021 by the union Ministry of Education, may have caught some attention in the past couple of years but is yet to become a popular buzz.  And, the administrators of the program recently at the National Education Summit by PHD Chamber of Commerce did get some valuable suggestions to improve the dashboard and communication between stakeholders.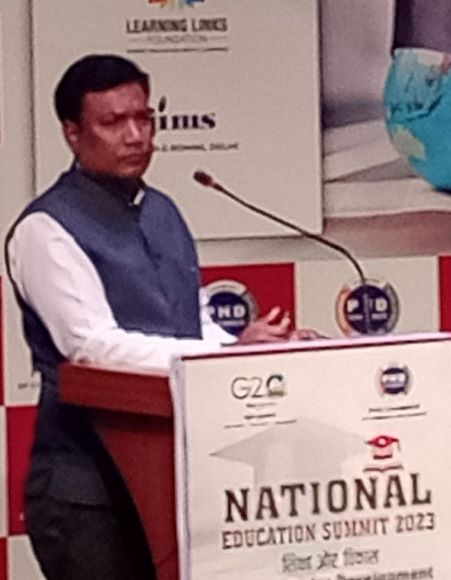 Dr E. Naveen Nicolas, Director, Ministry of Education, who made a presentation on the program in presence of Nodal officers of several states during a session on 'Vidyanjali: Philanthropy in education–Role being played by private organisations', did acknowledge that the pace of the program hasn't picked up. Program management units (PMU) are being put in place to drive the program.  Educationists and experts sought a more proactive role from nodal officer in outreach and communication so that volunteers, charities and companies can contribute to more schools. There were also suggestions to show regional and group requirements of schools so that those working in those areas can accord priority to donations of materials/equipment.
Likewise, a need was felt that technically the portal is still not that friendly and people have a hard time to find the requirement posted by schools.  Being effective and avilable, experts suggested includsion of peer learning and community service projects to make it more exciting.  The officials took the suggestions in a constructive manner to improve the program which has a vast potential to tide over shortages of trained subject teachers, instructors in co-scholastic activities like mart, music, yoga, vocational subjects, etc.  Under Vidyanjali, volunteers can participate in co-scholastic services/activities in government schools and government  aided schools with relevant knowledge and skill set and bridge the knowledge / skill / human resource gap in the institute. Organizations and groups can contribute towards Assets/Material/Equipment requirement of schools. For this, both the volunteers as well as schools have to register on Vidyanjali portal. Schools have to post their requirement and volunteers respond. This exchange is published on the portal with the photo uploads.