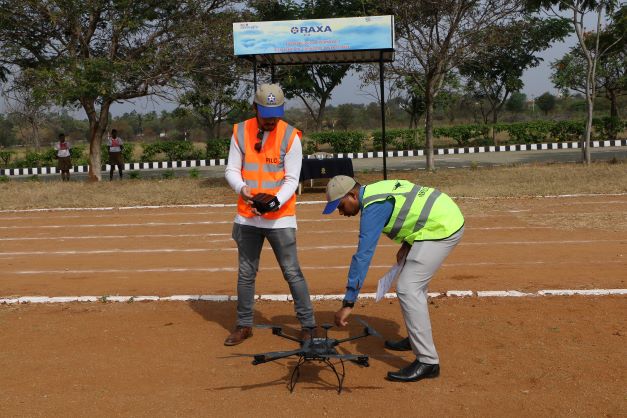 The DGCA-approved Drone Pilot Training Course will include simulator and hands-on equipment training, making the individuals ready for the upcoming technology
RAXA Security Solutions Ltd, a company of the GMR Airports Infrastructure Limited (GIL), has announced the launch of Drone Pilot Training Courses at its RAXA Academy. These courses have been specially curated to help individuals become market-ready in this new emerging drone technology sector.
​The Academy obtained the license to run the Drone Pilot Training course from the Directorate General of Civil Aviation (DGCA) on December 6th, 2022. The Academy offers two courses in Drone training – the Drone Pilot Training Course and the more advanced Drone Industrial Training course. The training of the first batch of trainees is underway from January 23rd, 2023.
The five-day Drone Pilot Training Course will include simulator and offline teachings to help individuals obtain the best in-sector training, post which they will be fully trained in drone flying operations. The advanced version of the course will further provide the trainees with Industrial Level training in drone operations, which will be a 10-day course for optimal utilization of drones in all sectors. The students will get exposure to drone operations, assembly, and various other skills aligned to future drone utilization.
Speaking on the occasion, GUG Sastry, CEO-RAXA, said, "Drones are the future, and RAXA Academy, through these new courses, will make individuals market-ready in this upcoming sector. The uses of drones are beginning to grow, whether it is in the delivery of medicines or other products or, in helping the government in surveys, conservation of wildlife, or ensuring structural safety measures in public transport like the Railways. The courses aim to make individuals future-ready in technology while increasing employment opportunities."
RAXA Academy, spread over a 100-acre campus and situated on the Bangalore-Hyderabad (NH-44) highway, 80 km from Bangalore International Airport, is equipped with best-in-class facilities to provide excellent drone training. The Academy has employed well-trained and experienced staff to provide DGCA-approved training, headed by an experienced Retired Air Force pilot.
The drone industry has taken a giant leap since 2016 and the usage of drones has witnessed an unprecedented spike in various industries/services. The drone service market size is expected to grow to USD 64 billion by 2025. Drone business growth will occur in five main segments of the enterprise industry- Agriculture, Construction and Mining, Media and Telecommunications, Law enforcement, and Insurance. Besides, drones could be effectively utilized for the oil & gas industry, transport, disaster management, geospatial mapping, and forests & wildlife management, among others.