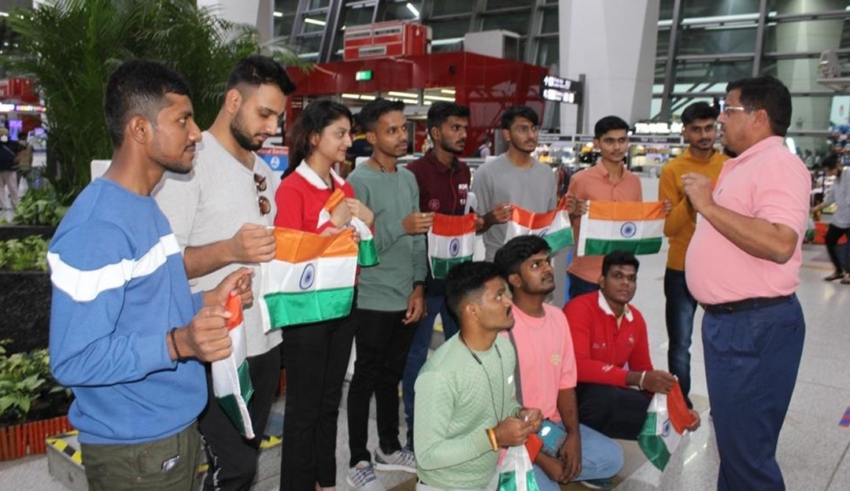 India has sent 11 trainees to South Korea to participate in the Korea Skills Transfer for Aspiring Regions (K-STAR) Capacity-building Program for Skills Competition organised by the Human Resources Development Service of Korea (HRDK). The program started on 23 May 2022 and will go on till 3 June 2022 at the Global Institute for Transferring Skills (GIFTS) of HRDK, Republic of Korea.
Indian trainees have been chosen based on the outcome of multiple selection tests conducted among the gold, silver, and bronze medal winners of the IndiaSkills 2021 National Competition. They are also being accompanied by experts, who are either from the industry and academia or have extensive knowledge and experience in their respective trades. The said 11 trainees are representing nine skills, including two team skills—Mechatronics and Mobile Robotics, with one expert for each skill.
The capacity-building program aims at enhancing the skills and competencies of participants who are preparing for WorldSkills Shanghai, which is scheduled to take place in October 2022. K-STAR provides a unique opportunity for Indian students to receive skill training as per international standards and inch closer to winning at WorldSkills, the global benchmark for skill competitions that brings together participants from over 65 countries.
Here is a brief profile of the 11 trainees:
Mechatronics (Team Skill)
Candidate 1 : Akhilesh N, 23, is a Mechatronics competitor and an ITI (Industrial Training Institute) graduate from Yelahanka, Bangalore. He is currently working at Toyota Kirloskar Motor. Akhilesh leads an independent life, supporting his mother. During his training in South Korea, he is learning about the strengths of his competitors. His journey in the IndiaSkills Competition (state, regional and national levels) has been full of learning. Akhilesh is currently preparing tirelessly for the upcoming WorldSkills Shanghai 2022.
Candidate 2: Karthik Gowda SN is a 20-year-old Mechatronics competitor from Mysore. He is currently working at Toyota Kirloskar Motor. Karthik, an ITI graduate, gained immense knowledge during the IndiaSkills Competition. His experience and learnings in South Korea are helping him imbibe various skills and giving him the exposure that he needs. Currently, Karthik is leaving no stone unturned to prepare for WorldSkills Shanghai 2022.
Skill: Electrical Installation : Kaliraj Marichamy is a 22-year-old from Chennai with a skill set in Electrical Installation. He has completed his training from Ramco Pvt. ITI. Before IndiaSkills, Kaliraj was working as a panel wiring technician at Igarashi Motors in Chennai. He learnt about IndiaSkills Competition from his college and instantly enrolled himself, following which there was no looking back. Kaliraj came across many challenges during the competition but surpassed all of them with his dedication. Talking about his experience in South Korea, he says that the training is providing comparative learning and helping him understand the technique to polish his skills. WorldSkills is indeed a tough competition, and Kaliraj is spending more time sharpening his skills so that he can avoid mistakes and be accurate in his execution.
Skill: Beauty Therapy :  Pritisha Barman is a 20-year-old bright girl from Nalbari, Assam with a skill set in beauty therapy. She has been training at the LTA School of Beauty, Mumbai for the past three months. At the beauty school, she strengthened her basic working skills and was introduced to advance technologies. Learning from South Korea has been a great opportunity for her as she has been able to receive training from well-trained instructors. She is determined to win a gold medal for India at the WorldSkills Competition.
Skill: Fashion Technology : Devejya, 22, is a National Institute of Fashion Technology, Mumbai graduate. He has completed his bachelor's in design with fashion design as a major. Devejya belongs to an academic family and understands the importance of skills at every step of life. His mother is the principal of a government high school, and his father is a retired professor. He has one sibling who is currently pursuing her M.Sc. with a major in microbiology. Her IndiaSkills journey has been very exciting, with its share of ups and downs. The learning she received was not just restricted to skill training but enhanced her personality, habits, and behaviour. In South Korea, she is receiving training that is equivalent to international standards. She got an opportunity to learn from two WorldSkills medal holders and gained insight from their experiences. With the combination of training in India and South Korea, the output of her work will improve, and she will be able to perform her best at the global competition.
Skill: Prototype Modelling :  Likith Kumar YP is a 22-year-old ITI graduate from Tumkur, Karnataka. Skilled in prototype modelling, Likith works at Toyota Kirloskar Motor. His life changed when he got selected for the IndiaSkills Competition, subsequently passing all the levels of the competition. It was a huge opportunity for him, and he made the best out of it. Currently, he is investing his time and energy to prepare for WorldSkills. For the same, he is receiving training in South Korea where he has been able to learn through advanced machinery and has been getting exposure to new techniques.
Skill: 3D Digital Game Art :  Abhinav Verma, the 22-year-old 3D Digital Game Art professional from Dehradun, dreams of winning gold at the WorldSkills Competition for his country. He holds a diploma in animation and VFX and has completed his education from Lakshya Digital Studios. His IndiaSkills journey has taught him various techniques. It is now on him how he uses the learning to improve. Abhinav is, no doubt, a quick learner as he has been able to polish his concept art in just three days in South Korea. Abhinav's strength is that he learns from his weaknesses.
Skill: Carpentry :  Bibin Das KS, 23, is a carpentry professional from Aluva, Kerala and a graduate from an ITI. Coming from a family of carpenters, Bibin has seen them making and fixing wooden structures from a very young age. He is the youngest in the family of four and, like his father, he wanted to take up carpentry as a profession. Even after facing many hardships in his line of work, Bibin made it successfully through IndiaSkills Competition and is extremely grateful to the Government of India for setting up a platform like this. He considers himself lucky to be able to receive training in South Korea under So Byong Jin, an expert and carpentry professional. Under Jin's guidance, Bibin has learned various techniques that will help him to improve his skills on par with global standards.
Skill: Mobile Robotics (Team Skill)
Muhammed Siyad P., 20, is completing his B.Tech in computer science from Cochin University of Science and Technology. He grew up in Malappuram, Kerala where his father runs a service centre of home appliances. Muhammed saw an advertisement in a local newspaper about IndiaSkills and applied for the same. Unaware of the level of the competition and, without the proper understanding of the structure, he just enjoyed what he did and made it through the competition. It has been a great experience for him as he is learning about the technological techniques of a foreign country. He is coming across different methods and has been learning the nuances of robot building. Currently, he is implementing all the learnings to improve his skills and aspires to win WorldSkills 2022.
Candidate 2: Like Siyad, Muhammed Faisal PK is also from Malappuram and is pursuing his B.Tech in computer science from Cochin University of Science and Technology. The 20-year-old has a line of achievements in IndiaSkills, being a three-time silver medalist at the Regional, State and National levels. In South Korea, he is gaining knowledge about robots and new technology that is helping him to add value to his skills. Talking about his experience, he has been amazed by the facilities and advancements in robotics. This training and the guidance to optimize robot building and programming will enable him to win in WorldSkills.
Skill: Cabinet Making: Santosh Ojha, 23, is a trainee in cabinet making and has completed his training from I.EVO training centre. His father is a carpenter and watching him turn timber into beautiful furniture made him realise that he too wanted to pursue his career in this sector. Getting into this field was not easy but he fought against all odds and successfully went through all levels of the IndiaSkills Competition. He considers himself fortunate for getting an opportunity to receive training in South Korea where he is learning new techniques of cabinet making. Currently, he is working tirelessly to enhance his skills for WorldSkills.