In the backdrop of the panic and concern that the news of flash floods triggering landslides, washing away roads, bringing down several buildings and flooding of Delhi after 45 years due to heavy a 72-hour incessant rainfall in northern India's Himachal Pradesh and adjacent regions on July 9-11, the successful organization of the 6th edition of SNAMUN '23 at The Lawrence School, Sanawar from July 27-29, was a story of resilience, simulations and bonding.
The United Nations Model UN Programme, a popular activity among schools as MUN (Model United Nations) throughout the world, has been a big draw both for schools and students as the learnings, skills, values and rewards that stimulated participation in the MUN brings in contribute to both good profiles. An annual fixture at The Lawrence School, Sanawar, the 176-year old legacy co-ed boarding school, the Sanawar MUN or SNAMUN'23 now in its sixth year, was threatened by the extreme weather event as said above but the host school and its secretariat run by students made sure, the event doesn't lose any sheen or excitement. "We returned to school on July 20th after the break and we shot videos of the blocked roads opening and movement of traffic and shared with participating schools and delegates to convey to them that if we can travel and safely move, so can you," says Aditya Das, a class 12 student and Secretary General of  SNAMUN'23.
As a result about a 100 student delegates and teacher coordinators from 11 boarding/day-boarding  schools across the country– Army Public School, Dagshai (HP), KK Blossoms School, Solan, Mayo Boys College, Ajmer, Modern School Barakhamba, Delhi,  Pinegrove School, Solan, St Kabir Public School, Chandigarh, The Rajkumar College, Rajkot, Yadavindra Public School, Patiala, Mussoorie International School, Mussoorie besides the host school deliberated on the theme of 'Peace, Justice and Sustainability' at the SNAMUN'23. The buzz and bonhomie were for everybody to see.   UNODC's regional office partnered in this conference.  In a message Marco Teixeira, Regional Representative, UNODC Regional Office for South Asia said that the power of young people in today's world is undeniable, and it fills us with hope and enthusiasm for the future. "Your energy, passion, and determination are the driving force of positive change. As the Regional Representative of UNODC for South Asia, I see a great opportunity to work together in creating a safer, healthier, and more just society. Your voices matter, and your actions will shape a better world. Let's unite to promote the rule of law and make our shared future a brighter one."
The opening ceremony of SNAMUN '23 on July 27 was addressed by Dr Purnima Chauhan (IAS retd.), former secretary to the government of Himachal Pradesh, who spoke at length from her own experience on the theme "Students and Young India: The Future of the Country." She urged the young delegates to be mindful of the needs of their local communities while addressing global challenges.
The conference also readout/played messages from the state Education Minister, Rohit Thakur, and state police chief, Sanjay Kundu.  The minister in his message said: "I am delighted to extend my warm congratulations and best wishes to all the delegates, faculty members, and participants of the Lawrence School Sanawar Model United Nations conference. Your dedication to diplomacy, meaningful discussions, and constructive debates sets a shining example for future generations. The theme 'Justice and Sustainability' reflects the urgency of our times, and I am hopeful that the innovative minds gathered here will contribute to achieving impactful resolutions soon."
In his inspiring message the state DGP Kundu said, "Congratulations to Lawrence School Sanawar on its remarkable 175-year journey of producing leaders for the nation and the world. As the United Nations arose from the ashes of World War 2, I commend the Sanawar Model United Nations conference for fostering diplomacy and critical thinking. Best wishes for a successful event, benefiting both students and society. I also applaud the school's collaboration with UNHCR and UNODC, addressing pressing issues like refugees and drug crime. Himachal Pradesh Police supports this excellent initiative wholeheartedly."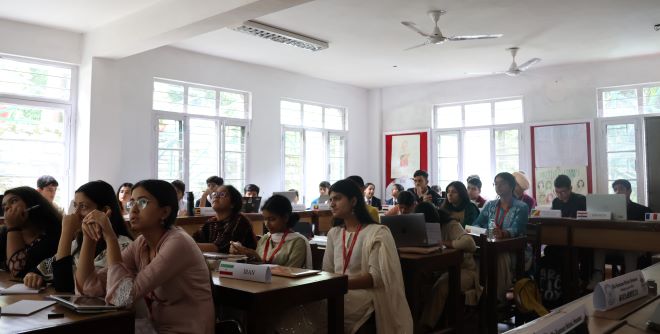 SNAMUN '23 addressed crucial global issues during its engaging discussions and workshops. Notable topics included the examination of global crises, empowering   women's leadership at the grassroots level, advocating for the protection of child refugees, and a comprehensive review of Agenda 2030 with a special focus on gender equality. The conference also delved into significant historical events like the Cuban Missile Crisis, providing valuable insights into crisis management and emergency planning for the participating young minds.
Six committees were part of the conference to add it the flavor and authenticity as per the United Nations Model UN Programme guidelines and included a committee each on: 1 United Nations General Assembly, 2. United Nations Security Council, 3. G-20 W-20, 4. Fiedel Castro Excom, 5. Fiedel Castro-Khrushchev, 6. United Nations High Commission for Refugees. Various agenda discussed during the committee sessions included Reviewing Agenda 2030 with special emphasis on gender equality; Discussion on challenges faced globally due to last 5 years global crises; Discussion on Grassroot Women Leadership; Deliberating upon the measures to Protect Child Refugees; Cuban Missile Crisis. Aditya Das (SECRETARY GENERAL), Dia Atal (DIRECTOR GENERAL), Veer Devgan (CONVENOR), Gayatri Sud (CHARGÉ D'AFFAIRES),  and Saanvi Banyana (CHIEF OF STAFF) conduced the conference.
Delegates were highly impressed by the conduct and support provided at the conference and particularly appreciated the effort of Executive Bodies of various committees to make them feel counted, corrected and collaborated. "For most of us, it was first MUN and though we had prepared but here we learnt more about research, diplomacy, negotiations and policy formation. We just loved the beautiful environment and aura of Sanawar," they said in agreement.
The conference culminated in a celebration of exceptional talent and remarkable achievements, with prestigious awards recognizing outstanding individuals and schools for their exemplary performance. The Secretary General's Best Delegate award was bestowed upon Himmat Singh Kular of Saint Kabir School, Chandigarh. His outstanding diplomatic skills, critical thinking, and impressive contributions to committee sessions earned him this well-deserved honor. The Best School Delegation award was clinched by Modern School, Barakhambha, New Delhi. The delegation showcased unparalleled teamwork, effective communication, and a commitment to driving positive change on a global scale.
Notably, within the committee on the United Nations Security Council, Viraj Gupta of The Lawrence School, Sanawar, demonstrated exceptional prowess in diplomacy, negotiation, and strategic thinking. As a result of his exemplary performance, he was honored with the Best Delegate Award in the respective committee, setting a shining example for his peers and future delegates.
"As educators, it is our fundamental duty to instill in our students a profound sense of responsibility towards their communities and the world at large. Every school, regardless of its location, must rise to the occasion and envision how it can positively impact its surroundings. Let us inspire our young minds to be catalysts of change, creating a reality that transcends boundaries and fosters enlightenment for all. Together, we can empower the next generation to lead with compassion, drive progress, and make our shared planet a better, more harmonious place for everyone," commented Himmat Singh Dhillon, Headmaster of The Lawrence School, Sanawar.
Vinod Sultanpuri, local MLA, an alumnus of the LSS himself delivered the valedictory address and said SNAMUN'23 has paved the way for progressive social movement. Change is made one day at a time, and everyone needs to do their bit in order to slowly make a change.