Now reduced to just five in number with a few hundred students on their rolls, these exclusive schools have been systemically eroded to just on paper entities. The lack of teaching staff and subject teachers in particular is ruining education of many a children studying in them and also rendering them unsustainable
There are about five pubic (government) migrant schools in Jammu district that cater to the education needs of Kashmiri migrant children and have been in existence for 32 long years after the mass exodus of Kashmiri pandits (KPs) and other vulnerable groups from Kashmir valley in the wake of serial killings by Pakistani sponsored terror groups and threats from radical separatist mobs in early 1990s necessitated their creation.  The bulk of this displaced population took refuge in camps  set up in Jammu and its surrounding areas and these schools became part of these camps.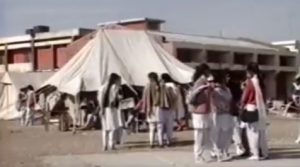 While creating a temporary infrastructure and camp offices was the best way to tide over the refugee crisis and  meet the challenges of the disruption caused by this unexpected displacement, the government of the day through these measures wanted to ensure delivery of services and engagement of the ecosystem  as an extension of the system that existed in Kashmir province. However, these decisions at the same time had a fair share of politics also.
Most of the people including the 'migrants' themselves and the government officials thought of  this displacement as a temporary phase  that would be lasting a few months to at best couple of years. So, they wanted a standalone ecosystem, which could be pulled out at will and reintegrated back in Kashmir at a given opportunity. The other consideration  for this decision was the growing anxiety among locals in Jammu, who were opposed to the thought of absorption of migrant employees in regular departments and migrant students in schools and colleges as this in their view would have shrunk opportunities for them and their children.
Despite being one state, the regional divide in J&K has been a reality fueled more by politics in both (Kashmir and Jammu) regions than anything else and this kind of arrangement did the fine balancing act to respect this sentiment  and stemmed chances of an agitation! In the hindsight it also gave a reason for migrant employees of every department to engage and network with each other to stay afloat.
As months turned into years and now almost 32 years, that temporary arrangement at least for school education has moved on its own while the state government's thought architecture is still frozen in that temporary phase. With time and stability, most of the children  did move to private schools and even to regular government schools. Ditto with colleges, the initial opposition to college admission is long gone. Now migrant children share colleges and universities with locals and camp colleges have literary wound up long ago. But exclusive schools continue to exist?
With camps moving out of tents to concrete clusters and now to multi-storeyed apartments several years ago, the corresponding migrant schools too have an upgraded physical infrastructure and buildings of their own to function as normal schools.  However, progressively their enrolment has plummeted and schools in Udhampur had to be shut down owing to dwindling number of children. Now there are only five schools left in Jammu (Satwari, Shastri Nagar, Roop Nagar, Udaywala and Jagti). And lack of teachers is the biggest problem they are faced with and it is there for years together without a lasting solution.
At the time of exodus in 1990, there were an estimated 7500 government teachers amongst Kashmiri Pandits and constituted the largest employee group among the displaced community from Kashmir. With so many of them, there was no way each one of them could be adjusted in schools to work at that time. So, initially if it was either on the voluntary basis or consideration of convenience that some of  these teachers got postings to schools created for migrant children. In the later years, it became a corrupt nexus between bureaucrats and some of these teachers to run these schools. Slowly teachers started pulling out of teaching duties and postings to these schools began to seen as punishment postings. Simultaneously a number of these teachers were also retiring and their overall number was coming down progressively in absence of fresh recruitment. But still, there were enough teachers to run these schools.
However, according to an insider who worked himself as a teacher, the real deterioration started when teachers were being transferred on deputation and many of them to relief organization. Though there is a charter for non-teaching duties as per the law, the migrant teachers were posted as officers in this quasi-revenue department that governs more than 1.5 lakh migrants in Jammu in 'colonial bluebook' style. "These postings were seen as promotions and added to social status. So, we lost a number of brilliant teachers to this bad decision," he says.
The other aspect to this sorry state of affairs has been teachers taking up other jobs and using every trick in trade to keep off postings in schools.  A sizeable number of these teaching having grown old are also patients (mostly lifestyle related) and therefore incapable of work.  The net result of this madness has been lack of teachers even in these five schools now.
For instance, Jagti township which is housing more than 4000 families and has a good children population houses two of these schools (junior wing upto middle school and a senior secondary from class 9 upward) with reasonably good and modern infrastructure.  The senior secondary has 350 students on its rolls and as a flagship migrant school, it offers both humanities as well as science streams after class X. But that optimism ends there.
Despite being a cynosure and showpiece of KP community's educational culture, the school doesn't have teachers for commerce subject for several years now. Likewise, there are no physical education teachers, zoology teacher, Hindi teacher, psychology teachers and the list goes on. According to a teacher from the school who doesn't wish to be named, the school authorities have requested higher ups for discontinuation of commerce stream and situation is so dire that it is a physics lecturer who takes up the commerce class or it just doesn't take place at all.
Another aspect highlighted by serving teachers is that those who are once posted are not transferred as per due process and tenure. "It is frustrating to be a teacher not because of profession but service conditions and the lack of purpose our department is showing," says another teacher who has been at the school for past five years.
Commenting on the state of affairs, Pintoo Ji, a prominent social worker of Kashmiri pandit migrants feels keeping a silo of these schools is wrong. "These schools were created both for our teachers and children to promote our culture of education. Teachers to show their passion and also nurture our youth with values that our community stood for, and children to learn from our own teachers to imbibe that natural connect with our ethos. But all this is not now working. Rather it is counterproductive to those presumptions and none is gaining anything out of it," he adds.
Absurd it as may sound, a nation which in some ways is obsessed with the emotive cause of Kashmiri Pandits seems to be unaware of how KP community's educational pride is in a self-destruction mode for years now under the nose of so many well-wishers, activists and politicians . These schools could have well figured in the global case studies if the objectives for which they were created were met and these would have set examples for migrants worldwide,.  With no such case left for them, it is better to make them swallow bitter pill of death and convert these into regular schools so that they remain sustainable and going. Else the systemic disease  will ruin  future of students in these schools very soon.
By Autar Nehru