Teachers from many leading schools across the nation joined hands on Children's Day, uniting against the spread of misinformation on e-cigarettes such as vaping devices and heat-not-burn products with specific focus on protecting Indian school going children.
These 'Teachers Against Vaping' have written a letter to Union Education & Skills Minister Dharmendra Pradhan demanding institutionalization of communication programmes to raise awareness among teachers, parents and children about the adverse effects of effects of electronic cigarettes in all forms.  The recent clarifications in law which ban manufacture, sale and even possession of these devices must also be part of this campaign, they said. 'Teachers Against Vapng' initiative is advocating for a meticulously planned communication program to be launched in educational institutions. The aim is to shed light on the detrimental effects of vaping and, in turn, dispel the misinformation surrounding this issue. These teachers are supporting "Mothers Against Vaping," a united front of concerned mothers combatting efforts by foreign manufacturers to promote these products among Indian youth.
The prevalence of misinformation persists also due to shockingly low awareness about the perils of vaping in the country. A recent survey in India among school children found that 89% aged 14-17 are unaware of these effects, and 96% are unaware that vaping is banned in India. E-cigarettes have been cleverly portrayed as a chic and socially endorsed habit, downplaying its inherent dangers and positioning it as a cessation method for traditional cigarette smoking. Geared towards enticing children, such devices boast attractive designs and a plethora of flavours, ranging from strawberry to bubble-gum. The current generation of youth, being digital natives, readily embrace emerging technologies. Yet, this inclination also renders them susceptible to the marketing tactics employed by international e-cigarette companies to promote such next-generation electronic devices.
Teachers joining the 'Teachers against Vaping' initiative are deeply concerned that international tobacco companies, driven by their pursuit of new markets, are disseminating misleading information that portrays new-age e-cigarettes as either harmless or less harmful in comparison to smoking traditional cigarettes. These companies are aggressively marketing products like vaping, heat-not-burn devices, and e-hookahs in India. Schools have become the hunting ground for these marketers who are using below the radar methods to popularize such products in a systemic manner beginning with favoured options and gradually leading the users to graduate to higher level of substances and spreading misinformation.
Upasana Mittal, Principal, Raghav Global School, Sector 122, Noida said, "The alarming rise of e-cigarettes, including vaping devices and heat-not-burn tobacco products has become a matter of grave concern, particularly when they involve school-going children in India. The allure of sleek latest technology-based vaping devices and misinformation that these products are less harmful, is a big threat to our children. We urgently require robust and proactive communication programs aimed at educating children, parents and educators about the detrimental health effects of these products."
In 2019, the US grappled with the E-cigarette or Vaping Product Use-Associated Lung Injury (EVALI) outbreak which resulted in the hospitalization of thousands of Americans, especially teenagers and young adults, causing enduring lung damage and pulmonary dysfunction, with unfortunate incidents of fatalities. The profound repercussions on the human body emphasize the urgent need to comprehend the risks linked with vaping products and advocate for collaborative efforts among stakeholders to effectively combat this threat.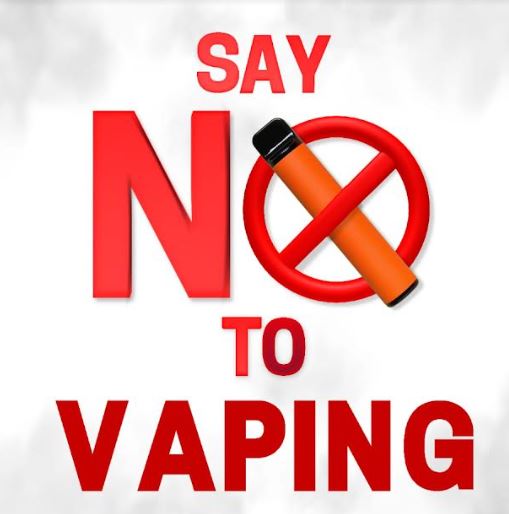 Loaded with harmful substances like nicotine, diacetyl which are linked to serious lung disease, ultrafine particles and various chemicals, vaping poses significant risks to lung health. The aerosol, containing particulate matter smaller than 2.5 microns (PM2.5), is detrimental to respiratory health. Additionally, it includes cancer-causing chemicals and heavy metals like nickel, tin and lead. E-liquids, sometimes oil-based, may even contain psychoactive components like THC (Tetrahydrocannabinol). Determining the exact content is challenging for consumers, as some products marketed as nicotine-free have been found to contain nicotine upon testing. The profound repercussions on the human body emphasize the urgent need to comprehend the risks linked with vaping products and advocate for collaborative efforts among stakeholders to effectively combat this threat.
The adverse effects of vaping or e-cigarettes often slip under the radar for many, especially the younger generation, who perceive it as a mere fashion statement. There exists a pervasive misconception that vaping serves as a safer alternative to traditional tobacco smoking—a perception meticulously crafted and disseminated through diverse channels including digital and offline, spanning advertisements, blogs and even popular media platforms like OTT shows.
Supriti Chauhan, Principal, DPS Gautam Budh Nagar, Sector 132, Noida said, "Addiction to vaping and electronic nicotine delivery devices is a scourge with far-reaching implications for our children. This issue extends beyond health concerns and significantly impacts the educational environment in our schools. Despite the ban on e-cigarettes and vaping devices in our country, the misinformation being spread that they are less harmful is troubling, as it manipulates the vulnerability among school-going children. We need to urgently address this issue to not only safeguard the health of our children but also to protect their educational journey."