As schools & colleges break for  summer vacation next month (that is May),  We thought of sharing a few perspectives from educationists & experts to add some degree of wisdom to  your planning  for  spending these holidays.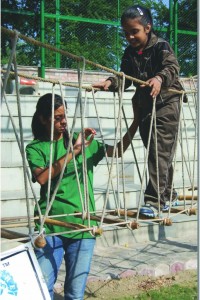 VACATIONS CAN NEVER BE what these used to mean to yesteryear generation– freedom from learning. Today, a child is burdened by more learning in a different way  but the emphasis is the same. There is little we can do to change the child's present; s/he must keep up with the Jones', how can they escape?
What children can do is read adventure stories  Trixie Beldon, the William series, the Five Find-Outers by Enid Blyton, of course Harry Potter.
Today's children may not wish to read books, so one can use Kindle or other tablets or ipads. They may read comics as well.
Secondly, children can be taught a hobby painting, drawing, cooking, embroidery, creative writing and so on. One can never be sure of the way a particular activity may catch on even coin collecting or stamp collecting.
Thirdly, outdoor activities can enhance their health would be camping and adventure treks  like the boy scouts or girl guides  excellent pastimes that help them grow, increase their appetite.
Fourthly, some understanding of other cultures and religions; celebrating of other religious festivals will help the children in interacting and realizing the wealth of God's world and its amazing diversity. Exchange programmes with Germany  German schools are very ready to share and enjoy our hospitality as well.
Lastly, and not the least,  as the UNICEF suggests art therapy; it helps so much for children to be creative with colours. Happy Holidays, then and have fun.
 (Sabiha Al-Issa, well-known educationist & facilitator based in Mumbai)
I CREDIT A LOT OF WHAT I AM today to the choices my parents made for me as a child. They encouraged me to learn to lead a life that was free, make a career out of my choice and lead every day with complete self-motivation. I have always believed in two things, which I feel have worked for my kids and I  independence & leadership. Every child does not have these skills necessarily but opening the window to be able to develop these skills gives the child at least a shot at holistic development. Summer offers a great opportunity to do this. Since the child does not get the time to connect to his community & life skills in his everyday routine, summer holidays can be effectively utilised to develop on these attributes. Once the child starts working, there'll be few occasions when he/she would be able to enjoy such extended holidays, free to do as they wish. So now that summer has arrived, I suggest, kids must take full advantage of it.
Children are like clay and can be moulded in any way by their surroundings. Parents obviously play an indispensable role in this. Instead of making your child live in a protected bubble, focus on creating an independent progeny who can make a difference to this world. One must remember that as a parent, your job is not to entertain the child but to equip the kid with life skills that help them deal with life and negotiate their space. A small thing like taking your child on errands to banks and super markets helps them develop everyday life skills. Traveling is the best way to help your kid broaden his perspective. As a parent, you must aim to send your child away for small periods. It helps you rediscover your child and his capabilities and your relationship with him.
Cultural exchange programmes help in providing a child with the experiences and tools to develop holistically and learn to be a 'global citizen'. Ferriswheel's Cultural Exchange Programme (CEP) is a sure-fire method to build this learning. Global awareness brings expanded educational and cultural opportunities to the forefront for all the kids participating in such a programme. With ongoing opportunities to not only "meet our global neighbour" but also to build "cross-cultural bridges," children develop a better understanding of other cultures, improve communication between cultures, and learn to support the concept of mutual acceptance. While parents look for learning and their child becoming more responsible, students look for it as an opportunity to meet children of different countries, broaden their horizons, learn to adapt to new cultures and having fun.
Ferriswheel's Exchange programmes are short dream lives that children and youth experience towards a future that is wholesome, open-minded and confident. While on exchange, students are confronted with challenges in everyday life that they will have never before experienced. Everything is new, as the student adjusts to life within a foreign place with a completely different language and culture. The difficulties associated with everyday life during a certain period abroad can truly teach a person countless life lessons. At the end of the exchange period, young people typically possess a greater understanding of foreign cultures and diplomacy. Even better, the student will have accomplished something very unique for a person of their age  living independently for an extended period of time in a foreign country, without the aid of their natural parents. Being on exchange is always an emotional rollercoaster, but the moments that are good aren't just "okay"  they are often amazing, unique, and beautiful all in one! Not to forget, the cultural exchange programme certificate is a great addition to their resume as it helps kids in admissions abroad.
Another option is to go for a short summer camp but you must make sure that it's physically challenging. City bred kids have hardly any exposure to outdoor living which is an essential part of their holistic development. So, get out there in the woods and go hiking or camping this summer.
If getting out of the city is difficult, kids must take advantage of their down time to open their mind to new knowledge and experiences available in their city. If you like reading then my personal recommendation for children is to read autobiographies of top achievers who have excelled in their fields. These inspirational stories empower the child and instill confidence in them. You can join a unique summer workshop and develop on those untouched skills you may have never explored. Learn a non-academic skill like art, music, pottery, theatre or a new language. You can even take up a new hobby likedancing, painting or cooking.A lot of universities around the world are making many of their past courses available free of charge online. You can take on one of these open courseware classes that include elements like the syllabus, course reading material, lectures and projects.
If you have an idea about the sort of career you would like, getting work experience is wise. Taking the summer to work on an internship offers many advantages to students.Apart from a productive holiday, the internship certificate certainly helps you at the beginning of your career.So, send applications off early and to as many places as possible. So make sure you take a well-earned break this summer. Make it count.
Mehandirata Shubhra Bhardwaj is poet, artistic Director and Founder of Mumbai-based Ferriswheel Entertainment Pvt. Ltd.
ALL SPECIAL CHILDREN ARE also children and thus they too like to go for vacations as much as any regular child. Depending upon the abilities of the child, the place should be easily accessible for the child. The planning has to start in advance to avoid any false starts. The place should be amenable to hosting children with special needs. Also the parents should also make an effort and plan a trip which they and their child with difficulties will enjoy. Most children can go anywhere and have a blast so much so that parents might feel that their child does not have any difficulty. But to make a vacation successful there are important points that one needs to remember:
The vacation spot should be chosen so that it is conducive for the difficulty which a child has. One should avoid a crowded place if the child has issues with crowded places as it sometimes adds to stress and the child may become irritable and uncomfortable. If the child is wheelchair bound, then the parents should avoid going to mountains as the mobility over the slopes might be a challenge.
Avoid introducing any new adventure or sport, as vacation is a time to enjoy what the child likes to do not to teach him/her new things. The parents should try to find camps which are meant for children with special needs so that they are able to take care of the child and the parents also get some spare time for themselves.
Know your child, if your child likes water then a beach vacation is great but if the child fears water, well then water retreat should not be an ideal choice. Similarly if the child likes to travel, then one could take flights/ long journeys but if not then a vacation should be planned with regular breaks.
Also one must try to prepare the child about the whole journey with general pictures of the place you are planning to visit and activities planned. This helps the child to accept changes in the routine better and manage their insecurities.
Try to plan a vacation with customized travel itinerary which most of the travel agents can offer so that the entire trip is planned keeping in mind the needs of the child as a group tour or a pre packaged tour might not be conducive for a child with special needs.
(Surabhi Verma, Director, Sparsh for Children based in Delhi, works for special children)