Russian invasion of Ukraine on February 24 among more than a million people also displaced the estimated 18000-strong Indian student community from the war-torn country. Most of these students are pursuing MBBS/medicine in various Ukrainian medical schools.
As the distraught news of these students being caught in the crossfire of war led to frantic calls for their evacuations and rescue, Government of India after initial hesitation launched a full-scale evacuation operation 'Operation Ganga' and at the time of writing this report the last batches of these students caught in Sumy town and elsewhere are being helped to be evacuated by the Indian authorities.
While these returnee students are at various levels from first year to internships, National Medical Commission (NMC) has allowed the Foreign Medical Graduates (FMGs) who have returned to India from Ukraine, to complete their mandatory 12-month internship in India. In a circular issued on March 4, MNC issued guidelines in this regard.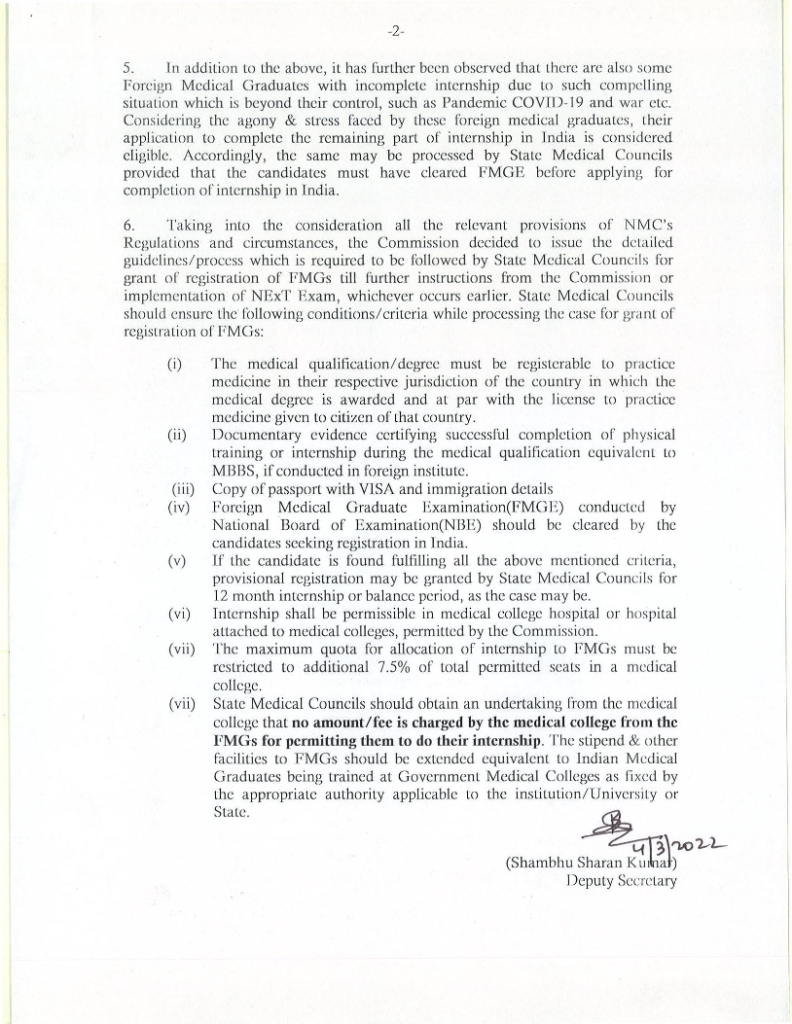 In coming weeks, irrespective of the war outcomes or its cessation, among these students other than interns will be an issue at hand both for the Government as well as their families. Will these be allowed to complete the rest of education in India or will they lose a full session is only a guess at this time. Some of them may turn to other cheap destinations comparable to Ukraine from China to Kyrgyzstan. Indian Medical Association (IMA) has issued an appeal for their rehabilitation in home colleges but it is easy said than done.
The final analysis comes to one reality discussion as to why these students in the first place have to go abroad for becoming doctors? Will this crisis in anyway improve things for future aspirants back home?
With 550 medical colleges India may have the largest number of these schools in the world but the low intake of about 88000 undergraduates a year is far lower than China which admits more than 2, 86,000 every year. The poor conservative intake by colleges in India may be an issue of regulations but now it also turns out to be mindset and market problem.
High entry barrier (competition) of NTA administered NEET exam and various quotas makes it difficult to get admission in a medical college in India  for thousands of aspirants and breaks many a dreams and most of them end up in places like Ukraine. In 2021 NEET-UG, 15.44 lakh candidates appeared and 8.7 lakh cleared the exam. Such a large number of candidates are clearing NEET at a time when the total capacity for MBBS admissions is as said above around 88,000. The private colleges in India are beyond reach of ordinary student as it costs between Rs 1 cr to 1.5 Cr to train for the course duration.
That is how destinations like China with on an average 23000 students, Ukraine (18000), Russia (16500), Philippines (15000), Kyrgyzstan, Georgia, Bangladesh, Kazakhstan, Poland, and Armenia etc become hot destinations for students who invest so much in clearing the NEET by studying hard, coaching and tuitions.
India's doctor density per 1000 population is abysmally low at around 4.08 and far below the international standards. So, the need of more doctors is always there. But how it plays in reality is quite depressing. Those opting for primary care are very less, the prime target is to get a good paying job in corporate hospitals or going aboard or still at best serving in cities. As such rural India's healthcare is distressed. With lack of educated and trained medical professionals; India's public health doesn't inspire confidence.
While this debate is not new, but Ukrainian crisis must now necessarily give a fresh impetus to radical and comprehensive reforms in medical education in India
What IMA wrote to the Prime Minister:  "The number of medical students who have sought admission to medical colleges / schools in Ukraine is substantial and they are at various stages of their progression. As a matter of set prescribed rule an Indian student seeking admission to any foreign medical college is required to procure an eligibility certificate for the said admission from the then Medical Council of Indian now rechristened as National Medical Commission constituted vide National Medical Commission Act, 2019 repealing Indian Medical Council Act, of 1956… This is in hands of the government and National Medical Commission (NMC) to amend and increase in the seats on temporary bases so that students' career does not get spoiled."