Preparing new age professionals and entrepreneurs, its live lab model of skilling allows students hands-on training
To look good is almost a universal craving among human beings.   In fact, the wellness and beauty enhancing culture has traveled all along the long history of civilizations and now thanks to modern science and  industrialization,  it has become part and parcel  of modern popular culture. On service side, it has become a kind of cottage industry, which is continuously growing  and specializing exponentially.
The success of yesteryears of make-up products and artists followed up by spreading beauticians and beauty parlors has firmly planted beauty and wellness  industry already in every nook and corner of India and most of the world. The next phase of this expansion is seeing newer science, procedures, machines, tools and products–all actually making it possible to produce real results bodily.
Weight loss, body shaping, coping with hair loss, pigmentation, acne & scars, wrinkles, etc., are some of the most common problems out there and therefore offer a big opportunity for professionals and entrepreneurs, who have the necessary skills and set ups backed up by the advanced techniques, equipment, training  and products.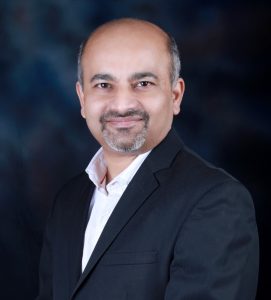 Pune-based Nandan Gijare, an alumnus of Visvesvaraya National Institute of Technology (Nagpur) who quit a successful career as a senior IT professional to start an institute in cosmetology in 2016, is on a path to set a new trend in wellness and beauty skilling by popularizing non-invasive procedures and safe chemical treatments among  his growing number of students.  With an army of alumni doing well, he clearly sees wellness and beauty sector entering into an exciting business phase.
"Make up works by masking and it has to be repetitive but with new techniques and products available, a trained professional can use non-medical and non-invasive procedures to heal and permanently get rid of problem of his or her customer. Awareness is there but there is still a lot of gap in the availability of trained people and facilities," he says.  Gijare an engineer by education, before setting up the Indian Institute of Cosmetology, Aesthetics & Nutrition (I2CAN), was a full time IT professional and spent over a decade in The Netherlands much of this time with the IT giant Cognizant. Once he returned to India, he saw an opportunity to start his own business and ventured into skills education of wellness and beauty. "I come from a family of educationists and there was always that pull to get into academic space. Cosmetology looked to me as an emerging field with skill gaps " he adds.
I2CAN is the brand of his Prospire Educational Services LLP and offers courses in cosmetology and related fields. What is unique about I2CAN is the hands on training its trainees get at its campus in Pune. I2CAN has a unique model.  At its lab facility, it offers various cosmetology and aesthetics procedures free of cost to attract people who need to avail them and are expensive otherwise for them. The idea behind this is to ensure live demonstration and practical training is always available to students and they don't have to rely on dummies and all theory. "For all our courses, we call our students to Pune towards the end of the program in case it is online and teach them applied skills in a live lab environment. This not only trains them in real world situation but gives them a fair idea of their future job, investment and clientele," says Gijare.
Most of the courseware of I2CAN is to do with skincare including hair. And most of these courses can be done by anyone interested though those already in well and beauty have certainly an advantage. There is also an important distinction on where the actual line for the domain of dermatologists and surgeons begins and ends for therapists who train here.  Treating a disease or disorder  or a surgical procedure is clearly out of bounds  and certainly not the part of these courses as legally and ethically it wouldn't be allowed. But there is a range of procedures and treatments which normal doctors (physicians) including from BHMS, BAMS fraternity, can learn here and upskill and start practicing in their clinics. "We have short duration courses for doctors where they can train in certain popular medical non-invasive procedures and add to their patient count  and earnings. Also it helps to fulfil a demand which is awaiting supply," he explains. The need of trained therapists in organized sector is also growing and those who train in courses like ones offered by IICAN, certainly can grab them.
Broadly, the courses ranging from less than a week to a few months fall into two categories — general courses and doctor courses.  And then within general courses, one can learn about  things like Cryolipolysis, Laser Lipo, Ultrasonic Lipo, RF, EMS and G5 for weight reduction and body shaping. Likewise semi permanent eyebrows, lip color, lip liner, scalp micropigmentation, vitiligo patch hiding and permanent beauty spot are other conditions for which these courses equip therapists.
With the increase in per capital income and penetration of fitness and fashion industry, wellness and beauty is going to be huge in coming years. With specialized treatments and procedures, more and more people will be drawn to it. Gijare knows it well and that is how he has planned to expand to 10 cities across the country with franchise model.  Of these Thane & Hyderabad followed by Delhi and Bangalore will be soon. Therefore he and his team are working hard to make their I2CAN Pune model a beautiful success.