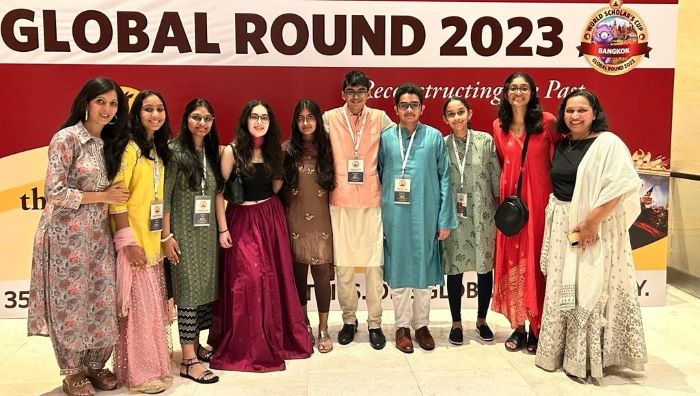 Three teams from Aditya Birla World Academy (ABWA), a co-ed K-12 school South Mumbai, have qualified in this year's The World Scholar's Cup (WSC) qualifying rounds and will later travel to Yale University for participating in the finale from Nov 2-8.
Three teams include a junior division team comprising of Arshan Krishnan, Dhruv Agarwal, and Tarini Chandra (all from Grade 8) and two senior divisions. Svara Kasliwal, Radha Malhotra, and Anoushka Kumar constitute one team and Tanvi Jaiswal, Gayatri Jatia, and Krishang Garg is the second team in this category.
From 1-6 September 2023, nearly 2000 scholars from around the world convened in Bangkok for the Global Round of The World Scholar's Cup 2023, united with a competitive spirit under the theme 'Revisiting the Past'. It is here that the ABWA teams showed their mettle and won their ticket to the finale.
The spectacular World Scholar's Cup 2023 in Bangkok offered a series of rigorous events from team debates, scholar's bowl to collaborative writing and scholar's challenge. ABWA's scholars showcased exceptional prowess, distinguishing themselves in each of these categories within both the Junior and Senior divisions.
Their triumphant journey began with three competitive rounds kick-starting with the Mumbai Regional Round where ABWA school teams demonstrated unmatched dedication and skills culminating in the Bangkok Global Round, where students showcased the power of education to transcend borders. Bringing home, a medal tally of 59 gold and silver medals, ABWA scholars are now set to make a mark at the Tournament of Champions hosted by Yale University.
Expressing her excitement on the achievement of the teams, Radhika Sinha, Principal, Aditya Birla World Academy said, "This has truly boosted our students' zeal, showcasing their strong enthusiasm. In this competition, the rounds were designed to develop the most engaging ways for students to educate and celebrate academia. We cheer for them and wish them luck to lift the Tournament of Champions Cup at Yale."