The report of the 10th All India Survey on Higher Education (AISHE) for 2019-20 released by the department of  Higher Education of the union Ministry of Education on June 10 shows continuous rise in the enrolment, number of institutions, and gender parity. In the last five years from 2015-16 to 2019-20, there has been a growth of 11.4% in the student enrolment. The rise in female enrolment in higher education during the period is 18.2%. Total enrolment in Higher Education as per the survey stands at 3.85 crore students in 2019-20 as compared to 3.74 crore in 2018-19, registering a growth of 11.36 lakh (3.04 %). In terms of Gross Enrolment Ratio (GER), the percentage of students belonging to the eligible age group enrolled in Higher Education, in 2019-20 is 27.1% against 26.3% in 2018-19 and 24.3% in 2014-2015.
Gender Parity Index (GPI) in Higher Education in 2019-20 is 1.01 against 1.00 in 2018-19 indicating an improvement in the relative access to higher education for females of eligible age group compared to males. Pupil Teacher Ratio in Higher Education in 2019-20 is 26.
There are 3.38 crore students  enrolled in various programmes at under-graduate and post-graduate level.  Out of these, nearly 85% of the students (2.85 crore) were enrolled in the six major disciplines such as Humanities, Science, Commerce, Engineering & Technology, Medical Science and IT & Computer. The number of students pursuing PhD in 2019-20 is 2.03 lakh against 1.17 lakh in 2014-15.
According to union Education Minister Ramesh Pokhriyal, who released the report,  the continuous focus given by the government under the leadership of Prime Minister Narendra Modi on education of girls, women empowerment and empowerment of socially backward classes are well reflected by the increased participation of women, SCs and STs population in Higher Education as shown by the Report. Minister of State , Sanjay Dhotre said, "The results published in this report are indicators of the success of the policies adopted by Prime Minister Shri Narendra Modi in the higher education sector of the Country. I hope this report will help our policy makers to further improve the higher education scenario of the country."
In AISHE 2019-20, 993 Universities, 38,102 Colleges and 8,631 Stand-alone Institution have uploaded the form on the portal. However, in addition to the actual response received during AISHE 2019-20, data has been pooled from the AISHE data uploaded during last two years and the final list is :  1043 Universities, 42343 Colleges and 11779 Stand Alone Institutions. Reference date for filling up the Data Capture Formats was 30th September 2019. The number of institutions, teachers and students has been recorded on the basis of their actual number as on 30th September 2019. Information in respect of Examination Result has been collected for the students passed out/awarded degree on or before 30th September 2019 for the previous academic year. Financial Information has been recorded for the previous financial year i.e., 1st April 2018 to 31st March 2019. The survey was launched on 1st January, 2020. Data uploading started from that very first day of its launching and continued till 15th August, 2020. Data was collected on several parameters such as teachers, student enrolment, programmes, examination results, education finance, infrastructure, etc. Indicators of educational development such as Institution Density, Gross Enrolment Ratio, Pupil Teacher Ratio, Gender Parity Index, etc. are calculated from the data collected through AISHE.
Among 1043 Universities, 408 Universities are privately managed and 420 Universities are located in rural area. 17 Universities are exclusively for women with 3 in Rajasthan, 2 in Karnataka and Tamil Nadu, 1 each in Andhra Pradesh, Assam, Bihar, Delhi, Haryana, Himachal Pradesh, Maharashtra, Odisha, Uttarakhand and West Bengal. There are 307 affiliating Universities and they have 42343 colleges. There are 16 Universities, which have 500 or more colleges.
Total Student enrolment has been classified in 8 levels viz – Ph.D., M.Phil., Post Graduate, Under Graduate, PG Diploma, Diploma, Certificate and Integrated.The highest number of students are enrolled at Under Graduate level across India. Similar situation could be observed in States/UTs. Out of the total enrolment of 3,85,36,359 students, a vast majority of 3.06 crore students are enrolled in Under Graduate that is a approx. 79.5% of the total enrolment. On the other hand, second to Under Graduate, 11.2% students are enrolled in Post-Graduation which is approximately 43.1 lakh students. There are 2,881 students enrolled in Integrated Ph.D. in addition to 2.02 lakh students enrolled at Ph.D. Level. There is a small share of 6.9% students enrolled at Diploma level in India that amounts to around 26.73 lakh students and out of this majority of students are enrolled in Teacher Training, AISHE 2019-20 14 Nursing and Technical streams. However, a small share of 1.59 lakh and 2.17 lakh students are enrolled each at Certificate and PG Diploma levels, respectively, constituting approx. 0.4% and 0.6% of the total share at each level.
In terms of state-share of enrolment, Maharashtra tops in the enrolment of students in Universities (including constituent units) with 9,67,034. This is followed by Tamil Nadu with 9,26,490 students and Delhi with 8,16,110 students.
As regards to Programmes, out of total, 10 programmes having relatively higher enrolment were studied to see the student's concentration. Bachelor of Arts (B.A.) has 96.55 lakh students enrolled in it which is the highest enrolment. The percentage share of students enrolled in B.A programme is 47.1% for male and 52.9% for female. Bachelor of Science (B.Sc.) has 47.07 lakh students enrolled in total and out of them 47.7% are male students and 52.3% are female students. There are 41.6 lakh students enrolled in B.Com. and out of them 51.2% are male and 48.8% are female. B.Tech. has 21.48 lakh enrolled students out of which 71.5% are male whereas the percentage of female is 28.5%. Bachelor of Engineering (B.E.) has 14.9 lakh students enrolled out of which 71% students are from male category. Master of Arts (M.A.) has 16.02 lakh total number of students enrolled with 62.3% female students. B.A. (Hons) has 17.7 lakh students with 43.8% male and 56.2% female students. B.Ed. has total number of 13.7 lakh students and out of them 66% are female. M.Sc. has total number of 7.84 lakh students with 37.5% male and 62.5% female. MBA has total number of 6.09 lakh students with 57.4% male students. B.Sc. (Hons.) has total number of 6.40 lakh students with 54.8% male students. There are 92,831 PWD students enrolled in higher education. Out of which 47,830 are male and 45,001 are female students.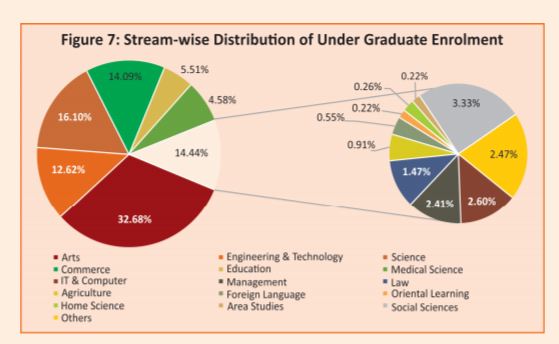 The total number of foreign national students enrolled in India is 49,348. Country-wise and level-wise foreign students in responding Institutions are given in Table 16. The foreign students come from 168 different countries from all across the globe. Highest share of foreign students come from the neighboring countries of which Nepal contributes 28.1% of the total, followed by Afghanistan 9.1%, Bangladesh 4.6% and Bhutan 3.8%. The top 10 countries in terms of number of students come from also includes Sudan (3.6%), U.S. (3.3%), Nigeria (3.1%), Yemen (2.9%), Malaysia (2.7%), United Arab Emirates (2.7%). Except for U.S and Malaysia, the number of male students coming from these top 10 countries were higher than the number of female students.