The academic year 2022-2023 admission in UG (undergraduate) programs in all UGC funded Central Universities will be through the Common University Entrance Test (#CUET) to be conducted by NTA. State and private universities encouraged to use CUET for admissions
Moving towards a sort of 'one-nation, one entrance test' for higher education degree programs or more correctly  on the pattern SAT the standardized test widely used for college admissions in the United States, India's higher education regulator, UGC (University Grants Commission) has announced the Common University Entrance Test (#CUET)  from this year.
CUET will be more or less like JEE for engineering courses, the major difference being as of now no centralized counselling as in JEE. CUET will be conducted in 13 languages—Hindi, Marathi, Guajarati, Tamil, Telugu, Kannada, Malayalam, Urdu, Assamese, Bengali, Punjabi, Odia and English.  National Testing Agency (NTA) will conduct the entrance test. The syllabus of the CUET will be based on class 12 NCERT.  For NTA notification on CUET click here.
With this the incessant focus on marks in board exams will come to an end as all those who pass board exams with minimum pass percentage (40%) will be eligible to write CUET. It will be the CUET score that will now determine the merit in admissions as against class 12 marks until now. The reservation and quota policy of individual universities will not affected by this change according to UGC.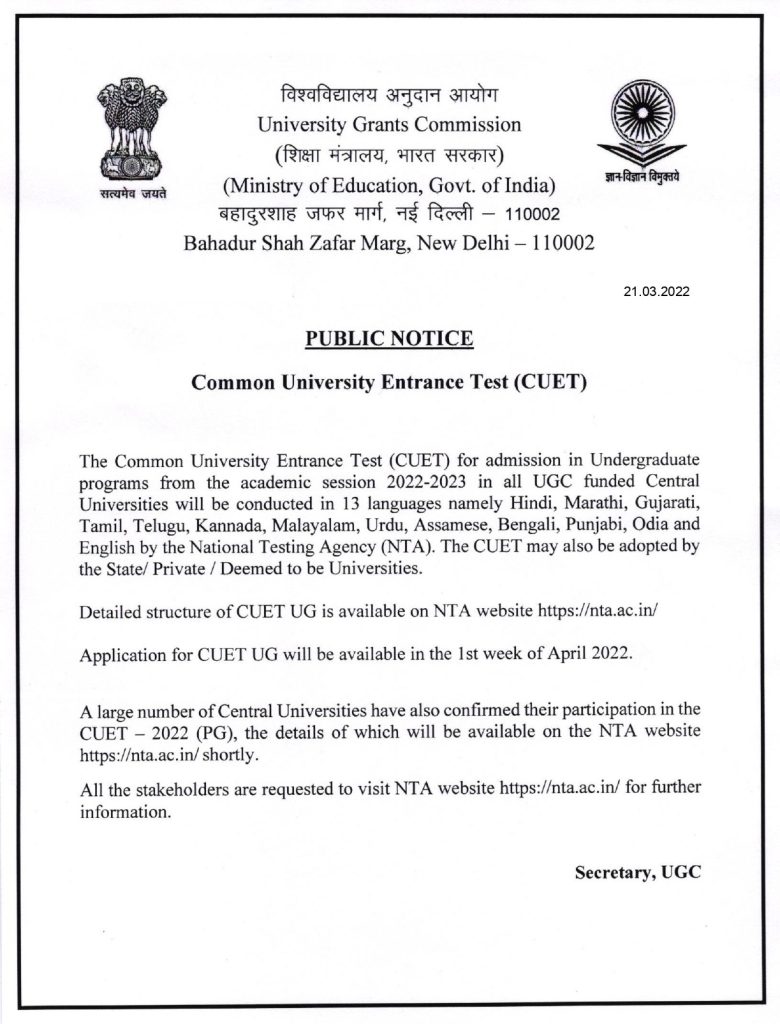 "It is an important NEP 2020 reform and will offer equal opportunity across the country and for different school education examination boards. In particular students from rural areas and northeast will be benefit. It will also lessen financial burden on students as they will not to have to sit in multiple entrance tests," said M Jagdish Kumar, UGC chairman in a media interaction.
So far 43 domain subjects have been added to CUET in addition to a compulsory language. A student can sit for upto six domain subjects. All other admission procedures including local quota will remain unchanged. The student will have to map his choice with the university he or she wishes to seek admission in. Some skill based or professional courses will also have a practical exam/interview component as well.
CUET for PG programs will be conducted as well though some specialization courses entrances will continue.
Availability of less number of seats and large number of unfilled faculty vacancies are still the valid arguments even if CUET seeks to streamline admission process. The fear is, the Test will also promote coaching culture in the country and on lines of JEE and NEET, put poor students at a disadvantage.  Fawaz Shaheen, National Secretary, Students Islamic Organization in a statement said that the Test will encourage test-oriented study culture instead of comprehensive learning and end up giving students mental health issues.
As the process goes further, more details and issues will unfold as the teething problems are also expected to challenge the process in its first year.