By Autar Nehru
It may sound familiar to the Google story straight out of the 'Silicon valley', but the difference here is that the crop of nano unicorns being germinated in Odisha will have many stories of successes as well as failures and expectedly a cascading effect. Teens and young adults in near future will have a set of novice entrepreneurs for a model to understand entrepreneurship in their own settings.
Anupama Mohanty, a married young woman, living in a suburban colony of Bhubaneswar, today can't hide her joy of being an independent beautician professional who has her own studio with latest equipment, inventory and tools to speak of. Barely six months into actual business, she has started getting good returns on her investment of about Rs 4 lakh. A graduate, who has also done a 2-year diploma from a local government polytechnic in beauty care and wellness, Anupama's life would have been typically that of a homemaker with a lifetime regret of not having pursued her passion as an enterprise. But then fortunately she attended an awareness session by a consultant-counselor from Odisha Skill Development Authority (OSDA) at her polytechnic and that chance event changed course of her life. "After I was interviewed and selected for (about a week-long entrepreneurship) training program, I realized my power within and what I always wanted to do. The loan of Rs 1 Lakh that was given to me after finishing this training gave stimulus to my idea of starting on my own," she says with sparkling delight.
Like her there are 200 other young men and women, who are living their dream of being on their own thanks to an experiment of linking skill training and entrepreneurship by engaging philanthropic funds to support micro entrepreneurs by OSDA through 'Nano-Unicorn' program that started in 2017. Ideally all these small enterprises are expected to create at least 1.5 jobs within a year.
Centre for Youth and Social Development (CYSD), a citizens group, based in Bhubaneswar, has been the nerve centre and a cradle for this idea. A fund of Rs 2 Cr has been raised from donors and most of it has been disbursed as loan to these first generation 204 young entrepreneurs. The idea is to create it as a revolving fund. That is once the money barrowed is paid back, it will be lent to another candidate so as to create these kinds of small enterprises on a continuous basis spirally. "It was after a daylong brain storming that we arrived at frameworks for identification of persons with entrepreneurial bent of mind and drive, linkages with institutions and financial support. Eventually, we persuaded a few individuals to donate and all of us were clear that this fund should be housed outside the government for obvious reasons. But I am happy, that this initiative finally took off and we are seeing some early success as well," says Jagannanda, cofounder of CYSD and former chief information commissioner of Odisha.
Geetanjali Mishra, a retired General Manager from SBI, who was persuaded by Sobroto Bagchi, chairman OSDA, to join as consultant to OSDA has been the force behind this initiative. She devised the workshop content, visited several institutions to counsel heads of these technical institutions and students and also took some training sessions. So, it is natural for these young entrepreneurs to relate emotionally with her and confide in her about their problems. And she in turn has been keeping in touch with them to monitor their progress. This relationship has also become a feedback channel for improvising the program and further building on it.
The loan to these micro entrepreneurs is as per need and is interest free in first year, thereafter a staggered interest rate applies in subsequent years. The whole idea is to provide hassle free and easy finance to all those who have a potential to become entrepreneurs. ITI & polytechnic heads and Skill Development Centers (SDCs) have been given the responsibility of identifying the talent, which is then trained in business plan development, marketing and costing besides basic entrepreneurial skills. Now Tata Strives has been roped in to scaling this initiative up to first 1000 nano unicorns next year (2020) and then to 3000 in next two years. With a critical mass of these 3000 in place, the government will exit from this program and let it evolve naturally thereafter.
At the same time, while the program has already registered many successes, several of the young micro entrepreneurs are struggling to raise more funds from banking institutions. Banks and financial institutions are simply refusing loans. As they lack expertise and collaterals, it is the support of the family and relatives that is coming handy.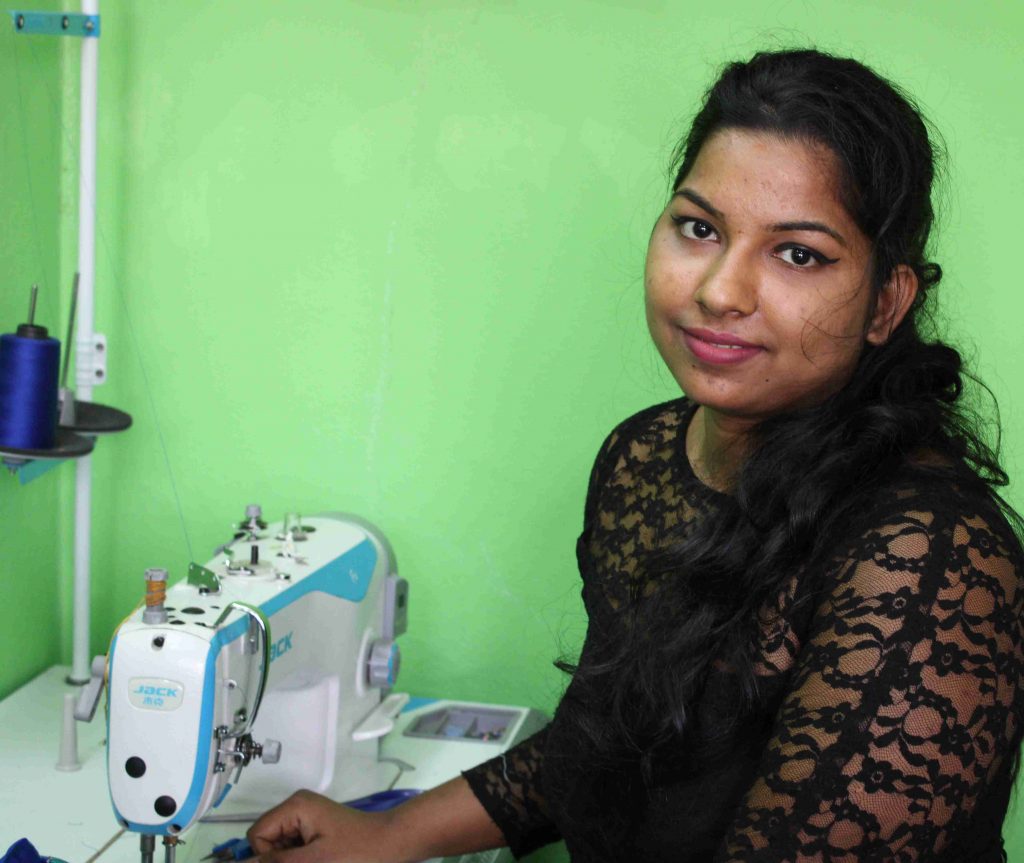 Kamini Kanchan Sahoo is the child of a single parent (mother). A passionate fashion designer, she has done everything so far in her reach to give wings to her dream of being a garments entrepreneur. They have sold the source of their sustenance, a small shop, to support her venture. "I was always fascinated by textile business and wanted to do textile engineering but couldn't, so I joined ITI and took a course in textile dressing. After this, I went to do graduation in fashion technology. During one of the final semester days, Geetanjali (Mishra) mam visited our college and told us about the program (nano-unicorn). I joined and soon with their money started my business. But then that money was inadequate and tried everywhere—banks and elsewhere. I have cried a lot! The real world is a lot different, but I am determined to prove myself," she says while displaying her own label and a resolve to become a 3000 employee enterprise one day in future.
Nano-Unicorn program has also started giving a welcome acceptance to entrepreneurship as a career to educated youth. Swampnamayee Samantra, an ITI graduate in dress material, in a nearby village of Bhubaneswar, has actually helped her family big way. Her mother supplemented family income by sewing at home and wanted her daughter to go for a job. But Swampnamayee not only opened a unit which is employing five people, but brought her mother out of home to become a respectable senior master to artisans working at her unit.
The showpiece of the program would be Gayatri Naik in her 40s, a single mother of three including national women Rugby team captain, Sumitra Naik, having opened her own beauty parlor. Abandoned and threatened with death by her alcoholic husband some 15 years ago, Gayatri's journey from a maid to cook and a parlor worker and now an entrepreneur, is really how a scheme can do wonders. "It was by sheer chance that after coming to city from a remote backward village, I saw beauty parlor for the first time in my life when I as a maid went along with my owner. It was incredible, I hadn't been familiar with any such thing earlier. I was smitten and continued to explore this new world. Did a short course and then took up a job. But then I knew this won't help much so I enrolled in a polytechnic and trained well. And then this program of government happened," she adds with a lot of maturity. She now earns about Rs 40,000 a month and is planning to make her shop bigger.
When this crop of micro entrepreneurs grows to its size, there will be several stories that will either inspire or depress, but one thing is sure, a new culture of entrepreneurships would make it look very different from what it appears now. Hopefully a a big change is round the corner. Odisha will lead a new entrepreneurship narrative!