The #Hijabcontroversy has legally moved to the top of the ladder and an appeal against the Karnataka High Court order of March 15 has been filed in the Supreme Court. The landmark Karnataka HC in its order had dismissed all pleas challenging the order of Government Pre–University College for Girls, Udupi banning hijab in the campus and thereby allowed the ban to continue on wearing of hijab. "All these petitions being devoid of merits, are liable to be and accordingly are dismissed. In view of dismissal of these Writ Petitions, all pending applications pale into insignificance and are accordingly, disposed off," the HC bench wrote in its order. The Apex Court will consider hearing on pleas against the HC order post Holi recess.
As expected, the Karnataka HC order has fuelled the controversy that began early this year with the above-said ban order and subsequent protest and filing of cases. The politicizing of the whole issue has evoked sharply reactions, debate and protests.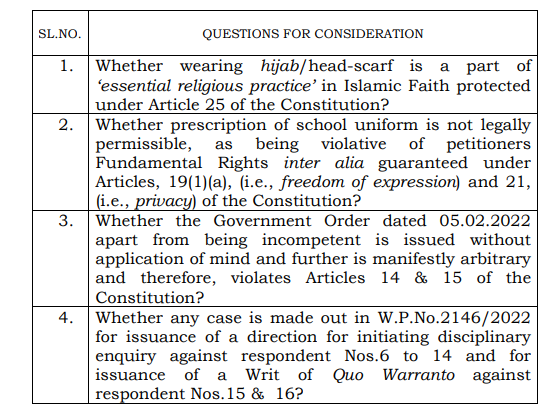 The 129-page Karnataka HC order is an important milestone in school regulations in this country and rightly or wrongly fears are being expressed that it will set a national precedent and more states/schools will be prompted to proscribe hijab in their schools. "We don't want it to set a national precedent and we want it overturned as the court verdict might embolden more states to ban it. So in all likelihood, we will approach the Supreme Court," Musab Qazi, secretary The Students Islamic Organisation of India told agencies.
While the petitioner students have said they will boycott classes than obey the order, the Karnataka ministers have appealed them to respect the judgement and rejoin their classes. Meanwhile, many people have welcomed the judgment including the ruling BJP.
I wholeheartedly welcome the judgement of the Karnataka High Court in declaring "Hijab as not an essential religious practice and school uniform is a reasonable restriction".

This vindicates Our Party's stance that Equality triumphs over Appeasement.#HijabControversy

— C T Ravi 🇮🇳 ಸಿ ಟಿ ರವಿ (@CTRavi_BJP) March 15, 2022
The educational institutions of the kind being 'qualified public places', the students have to adhere to the campus discipline and dress code as lawfully prescribed since years i.e., as early as 2004. The parents have in the admission forms of their wards (minor students) have signified their consent to such adherence. All the students had been accordingly adhering to the same all through. It is only in the recent past; quite a few students have raked up this issue after being brainwashed by some fundamentalist Muslim organizations like Popular Front of India, Campus Front of India, Jamaat-e-Islami, and Students Islamic Organization of India. An FIR is also registered. Police papers are furnished to the court in a sealed cover since investigation is half way through. Otherwise, the students and parents of the Muslim community do not have any issue at all. Therefore, they cannot now turn around and contend or act to the contrary.
The political expediency that is being sought in this controversy principally rest on the premise that Muslims are being marginalized and deliberately targeted as right wing Hindu majoritarianism is seeking fertile grounds to spread islamophobia. Inclusivity, identity, choice are other broader realms under which the controversial hijab ban is being debated.
Our view:
The Karnataka HC order is a progressive view and must be accepted in spirit. Raking the order further on communal basis will further divide the communities and marginalization, bitterness and disharmony can only deepen. Those who challenged the order in the state courts exercised their constitutional right and need to be respected. It is also their democratic right to argue their point of view and approach the Supreme Court. And, it is they who should rather respect the legal course than forment the controversy further.
Hijab is a cultural practice, not part of 'religion' essential as has been established now by scholars. So, now it comes to identity and choice. Before the Afghanistan Mujahedeen war against USSR and Iranian revolution, Hijab was also unheard of in this part of the world except religious congregations or madrasas. So, there is a definite link between the rise of fundamentalism and these kind of attires post 1970s. And, that trend is moving in dangerous direction. Among other things if RW gets stronger here, it will be partly in response to this trend.
Prior to militancy,#Hijab culture was no where in #Kashmir.Girl students are seen moving on a #Srinagar road freely and without #Hijab in #August, 1989. Now post 1990 most of the girl child wears #Hijab …. thanks to a #Jehadi mindset. pic.twitter.com/g9hS5BC4Bh

— Dr.Rajesh Bhat (@raajbhat) March 15, 2022
Fashion as an industry is getting robust by the day and Indian youth are seeing themselves empowered as a result. Thiers choices have got liberated and feel part of emerging cosmopolitan mass where dividing lines between communities and even religions is blurred. Hijab as a fashion garment, a statement will also have an appeal. It has already made a success in the market. So, it better leave it to market and those who look good in Hijab will not only be respected but accepted and adored as well.
Schools are places of learning age-appropriate things of life. So, if uniform and uniformity is a regulation in schools, then all of us need to support anything that brings our children together without developing hate.