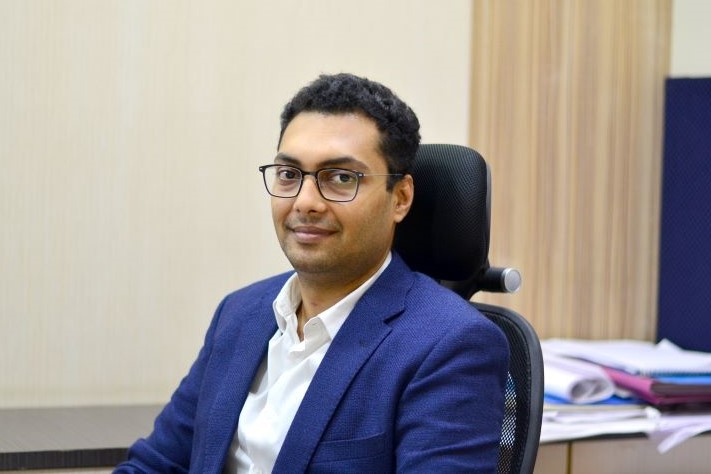 Mumbai-based Goenka Global Education (GGE, esb 2010) is the education vertical of the Goenka Inc., a diversified business conglomerate. GGE after partnering with Eduduster, a Finland education Company and Billabong High International School and Kangaroo Kids International Preschool, has started schools under the 'Finland International School' brand name. In 2022, GGE began the journey with opening of one school in Pune and takeover of two BHIS schools in Thane/Mumbai. The schools have recruited Finnish mentor teachers for implementing Eduduster solutions and training local teachers. Thus, this is the first institutionalized effort of mainstreaming highly reputed Finnish schooling in India.
Autar Nehru spoke with Shashank Goenka, Managing Director for the real estate & International education Division of the Goenka Inc. on the initial experience
Let's begin by talking briefly about your interest in schools.
I come from a business family and with an entrepreneurial spirit I decided to put my business knowledge to good use. After an in-depth research we found out the gaps that needed to be filled to make Indian education more complete with first-hand knowledge of the curriculum and subsequent detailed observation of the system. Additionally, exposure to the global environment compelled me to establish a school that places a strong emphasis on students' capacity to learn, absorb knowledge holistically, and apply it in all aspects of life. The goal has always been to give children the tools they need to push beyond the boundaries of what's possible so they can learn to the fullest extent possible and realize their intellectual and social potential in the future. Bearing this in mind, Goenka Global Education was created in 2010 and is proud of its innovative approach to learning and teaching with currently two enterprises, one providing educational services to schools and the other specializing in building construction.
You are probably a pioneer in having embraced Finnish school education model to an extent. Now, tell us what initiated your choice?
The decision was an easy decision for Goenka Global Education because the upcoming new education policy NEP in India is based on Finland education which makes it a natural choice to bring the Finnish education and Finnish pedagogy into India to make a better future.
Goenka Global Education started collaboration with EduCluster Finland which is the leading Finnish education expert company in Finland owned by the University of Jyväskylä. GGE decided, after conducting extensive research that the Finnish approach and philosophy were brought by one of the best educational systems in the world to India by EduCluster Finland and that's how GGE partnered with ECF. With an extensive research and careful consideration, they brought forth a harmonious fusion of pedagogical expertise, student-centric methodologies, and a holistic learning environment. Goenka Global Education and EduCluster Finland continue their unwavering commitment to pioneering educational excellence, inspiring generations to come, and propelling India towards becoming a global leader in education.
Having added Finnish to your school brand, recruiting Finnish teachers, there is a naturally a lot of curiosity among all including parents, about board affiliation?  
Yes, even we are confronted by this. The schools follows the Finnish National Core Curriculum with Primary Year Programme (PYP), checkpoint examinations in IGCSE (Grade 3, Grade 6, Grade 10) and IBDP (Grade 11, Grade 12).
What about Finnish teachers?
One of the schools, FIS Thane has recruited Finnish teachers to coach and mentor local Indian qualified teachers and upscaling them with Finnish approach and Finnish Pedagogy into their work and that upscaling is based on curriculum mapping. Finnish core curriculum will be mapped with local Indian boards and IGCSE in FIS Thane. Whereas FIS Race Course in South Bombay will be based on the Finnish core curriculum which will be channelled to Middle Years Program in IB. Education for kids from 3-11 years is based on Finnish core curriculum with mandatory languages required here and a strong participation in Indian culture.
It is already a year now, what is the initial feedback?
The feedback has been solely positive, with that FIS Pune completes its first year and is getting good response academic wise. The management keeps on upgrading and training the teachers to meet the end goals. FIS Thane has been a school transformation project from Billabong High International School to Finland International School, whereas FIS Pune and FIS Race Course are starting from the beginning with Finland core curriculum adapted to Indian needs and culture.
NEP 2020 is as much a product of consultative exercise as it is a combination of picked up elements/concepts/methods from world's best curricula and schooling. What portions of NEP 2020 would you attribute to Finnish Model?
Channeling the emphasis from teacher centric education to student-based and student-centric to focus on overall growth of a student. The idea is bringing education from content learning to concept learning. Concept learning offers a holistic and meaningful approach to education, fostering deep understanding, critical thinking, problem-solving abilities, and adaptability. It empowers learners to become lifelong learners who can apply their knowledge across various domains and navigate complex challenges effectively. Putting an emphasis on future scales which in Finland curriculum are called transversal competencies and skills-based learning.
Based your own experience, can India as a country scale up these prescriptions, pedagogies, etc given the size of our country and constraint of resources, both financial and teachers?
As a country we can definitely upscale by teacher training, upscaling local teachers. Bringing Finnish teachers and all this creates a future resource and are financially viable. Upskilling teachers is crucial for their professional growth, student success, and adapting to the evolving educational landscape. It gives teachers the tools they need to facilitate learning well, gets students ready for the problems of the future, and helps the education system as a whole. Similarly for local teacher upscaling may lead in better educational outcomes, higher teacher retention, and the growth of a solid, self-sufficient educational system within a community.
Would your schools in near future get into the role as a resource centres if any other schools were to ask for help?   
Definitely, the institution is trying to become an acting resource centre. The idea is to evolve the Indian school system to increase the quality of education. These include the implementation of the National Education Policy 2020, which aims to provide holistic and multidisciplinary education, promote skill development, and enhance the use of technology in education which is in line with the Finnish mode of education.
Thank you