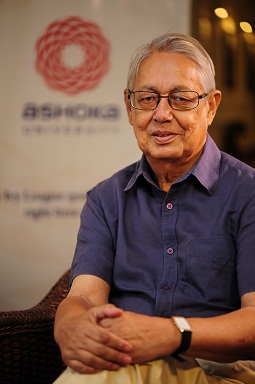 Ashoka University appoints chancellor, VC
The upcoming Ashoka University situated in Sonepat (Haryana) has appointed  noted sociologist, Prof Andre Beteille as its Chancellor, and historian-journaluist Prof Rudrangshu Mukherjee, as the founder Vice Chancellor of the University. Professor Beteille (National Research Professor and Professor Emeritus of Sociology, Delhi School of Economics) will head the Ashoka University's Governing Body, its highest authority, while Professor Mukherjee  (ex-Editor, Editorial Pages, The Telegraph) will lead both Ashoka's Board of Management and its Academic Council.  He will also guide the overall strategic direction and lead the day-to-day operations of the University.
The announcement was made at a gathering that included key Ashoka Founders and Trustees, such as Sanjeev Bikhchandani, Founder, InfoEdge (Naukri.com); Ashish Dhawan, Founder, Central Square Foundation and Former Senior MD, ChrysCapital; Vineet Gupta, MD, Jamboree Education; Dr. Pramath Raj Sinha,MD, 9.9 Media and Founding Dean, Indian School of Business.
Both Professor Beteille and Professor Mukherjee have been actively involved in Ashoka since its inception, helping set up its preeminent Academic Council, which includes such luminaries as Kaushik Basu, Ramachandra Guha, Sunil Khilnani and Pratap Bhanu Mehta and leading its faculty recruitment efforts. .  Kaushik Basu (Senior Vice President & Chief Economist, World Bank), also an Academic Council member of Ashoka University, said, "Andre Beteille, one of the most famous sociologists, not just in India… Becoming Chancellor speaks very well to [Ashoka]… he has got very wide Indian experience… [having] been involved with a whole slew of Indian institutions and been a very distinguished professor…Rudrangshu is a natural scholar. He has been a journalist for several years of his life… [and] his forte is scholarship. He is just a naturally creative, interested human being".
Ramachandra Guha, an Academic Council member of Ashoka University, said, "I hold André Béteille to be India's greatest as well as wisest social scientist. He is a world-renowned scholar of inequality, a beloved teacher, and an extremely influential public intellectual. Rudrangshu Mukherjee is an outstanding historian who, like Professor Béteille, has effortlessly bridged the words of academics and public commentary. Both are genuine liberals, unencumbered by dogma or ideology, always open to debate and dialogue in the pursuit of truth. "
Ashoka Universitywill admit its first batch of 300 undergraduates in September 2014 along with 200 Young India Fellows to a fully-residential 25-acre campus in Rajiv Gandhi Education City in the NCR, Haryana. Programmes at Ashoka are delivered in collaboration with leading institutions, including the University of Pennsylvania, the University of Michigan, Carleton College in the US, and Sciences Po, Paris. Ashoka is supported by more than 80 successful entrepreneurs and philanthropists, and boasts of a world-renowned Academic Council.
 South Asia Network for Sustainable Development Solutions launched
The South Asia Regional Network of the Sustainable Development Solutions Network (SDSN) was launched in New Delhi on July 6. The SDSN is a unique global collaboration to mobilize expertise and experience from academia, civil society, and the private sector to help find solutions for some of the world's most pressing  and interconnected  environmental, social, and economic challenges. TERI University (India) and BRAC University (Bangladesh) are the Regional SDSN Centers for South Asia. The global SDSN is hosted by Columbia University, and is governed by an international Leadership Council.
Dr Jeffrey Sachs, Director, The Earth Institute, Columbia University, and Director, SDSN, said: "The entire global network of universities in the SDSN is excited to work with our close friends and colleagues in South Asia to advance the cause of sustainable development within the region and globally."
Dr. R K Pachauri, Director-General, TERI, said: "It is hoped that with the launch and functioning of this network, the South Asia Region will develop and implement solutions that would promote sustainability across the entire region."
Dr. Leena Srivastava, Vice Chancellor, TERI University, said: "The most valuable opportunity that this provides us is to strengthen sustainable development research, education, and application in the University system in South Asia. Focusing on such an inclusive approach, with an aim to broad-base the search for, and application of, sustainable development solutions across the length and breadth of the region, promises to accelerate the transition to more sustainable growth."
Launched by UN Secretary-General Ban Ki-moon in August 2012, the SDSN and the SDSN Regional Centers will help coordinate the activities of a network of stakeholders and facilitate solution-oriented partnerships on a sub-set of the following critical development challenges: macroeconomics, population dynamics and planetary boundaries; reducing poverty and building peace in fragile regions; challenges of social inclusion; health for all; deep decarbonization pathways; sustainable agriculture and food systems; forests, oceans, biodiversity, and ecosystem services; sustainable cities; good governance of extractive and land resources; global governance and norms for sustainable development; and redefining the role of business for sustainable development.
 Intel® Education 2 in 1 tablet launched
Intel India on June 25 unveiled the Intel® Education 2 in 1, its first-ever 2 in 1 design for students at an event in New Delhi. The new device 2 in 1 has the flexibility and mobility of a tablet plus the performance and productivity of a laptop, giving students the best of both worlds in one device. It has front-facing and rear-facing cameras to promote content creation and scientific exploration. The dual-docking mode allows students the option of having the tablet screen face them when using the keyboard or having the tablet screen face their peers to facilitate collaboration.  The Intel® Education 2 in 1 is powered by a quad-core Intel® Atom™ processor Z3740D, runs Windows* 8.1, and provides up to 7.8 hours of battery life as a tablet and an optional 3+ hours of additional battery life when docked1 to keep up with student learning all through the day. It is designed for education and ruggedized so that it can withstand drops from 70cms2 and offers IP 51 water and dust resistance to promote anytime, anywhere learning. There are kid friendly features such as a handle that makes it easier for small hands to hold and a stylus with a realistic pen-like grip. The price is Rs 25000 upwards.
Ashutosh Chadha, Director, Corporate Affairs Group – Intel South Asia and Rajiv Bhalla Director, Market Development  Intel South Asia showcased the full range of Intel® Education Solutions on the occasion. Intel India, together with Center for Assessment, Evaluation and Research (CAER), also launched a white paper, 'Creating a transformed learning environment' highlighting the need & importance for integrating technology in school based assessments.  Ashutosh Chadha, Director, Corporate Affairs Group, Intel South Asia said, "In a global economy, creating 21st century success for individual students, communities and nations means giving every student the skills and opportunities to excel. With a vision to advance excellence in education around the world, Intel is directly involved in education programs, policy advocacy and technology products that enable today's youth to develop the skills they need to be the innovators of tomorrow"
 edX celebrates self-motivated learners in India
HOSTS MEET-UP AT MICROSOFT CENTRE FOR EDX ACHIEVERS
EdX students in and around Bengaluru gathered at an edX Meetup at Microsoft Research Centre to connect with edX CEO Anant Agarwal and IIT Bombay professor Deepak Phatak. The event was organized to celebrate self-motivated learners in India and honour edX learners across the country. EdX is a non-profit created by MIT and Harvard that brings the best of higher education to students of all ages anywhere in the world, via the Internet, with free curated courses. It represents a revolution in education and provides access to courses taught by the world's top faculty for free. Top universities like University of Berkeley, The University of Texas System, University of Toronto, UT Austin, Tsinghua University and IIT Bombay, among others contribute MOOCs to the edX platform.
Speaking at the occasion, Anant Agarwal, CEO, edX said, "When we are talking about edX in India, we are talking about 'engaging and advocating education' with the second largest participant country supporting MOOC  comprising of 12% of our entire edX student population enrolled in one form of course or another on our engaging platform." Adding to this he said, "We are excited about the future and we will continue to evolve edX in a way in which blended MOOC models continue to enthral and engross the 'scholar in you' and which will pave the way for a refreshed view at improving education from the grassroots level."
The event also included an address from Prof. Deepak Phatak who has been with IIT Bombay since 1971. He stated, "Our country has always had an affinity towards "quality education" both in the way it is taught and more importantly, on how it is imparted! Partnering with edX and its open source platform has been a revelation and this has already started yielding further results and has paved the way in extending the courses to cover vocational as well as classroom training. Every participant in our courses are encouraged to indulge, be challenged and have immensely benefitted from the edX platform. Enthusiastic 'learners' from all walks of society will continue to reap the benefits of having a truly open education platform which evolves to cater to the needs of learners across the globe in delivering impactful education."
The edX Meetup gave the learners an opportunity to share their stories and talk about how online education and MOOCs have impacted and transformed their lives. Bill Thies of Microsoft Research India hosted this event and moderated discussion between the students and Dr. Anant Agarwal and Prof. Deepak Phatak.
 Fellowship to Empower Delhi School Principals
India School Leadership Institute (ISLI) has launched the City Fellowship: Delhi, to equip school principals of low-cost private schools in Delhi-NCR with skills and knowledge aimed at improving quality and taking their schools to new levels of excellence. The initial cohort consists of 14 school leaders from low-cost private schools in Delhi. 45% of all Delhi schools are private institutions and are witnessing a rise in enrollment, confirming the trend towards private education in the city.
The ISLI City Fellowship provides school leaders with the knowledge, skills and attitudes to turn their schools into high-performing institutions. The City Fellowship makes this possible through a combination of year-round training by experts from organisations like Teach For India, visits to well-known schools like St. Mary's School, Step by Step, Vidhya Gyan of the Shiv Nadar Foundation, among others, and personalised in-school coaching.The fellowship, a not-for profit initiative, has been launched by ISLI in association with Akanksha Foundation, Central Square Foundation, Teach For India and the US-based KIPP Foundation.
State of Forest Report 2013 released
Forest Survey of India (FSI), which has been assessing the forest and tree resources of our country on a biennial basis since 1987 has released biennial report "India State of Forest Report (ISFR)".  The report is based on interpretation of LISS III sensor data of indigenous Resources at-II satellite with spatial resolution of 23.5 meter with minimum mapable area of one ha for the period October, 2010January, 2012. The satellite interpretation was followed by extensive and rigorous ground truthing. In addition, periodic ground data collected by field parties and information from other collateral sources were also used to improve the accuracy of the interpreted image.  Change matrices recorded in the present report refer to changes with respect to the last report i.e. ISFR 2011.
As per the present assessment, the total forest and tree cover of the country is 78.92 million hectare which is 24.01 percent of the geographical area of the country. As compared to the assessment of 2011, there is an increase of 5871 sq km in the forest cover of the country. The majority of the increase in the forest cover has been observed in open forest category mainly outside forest areas. The maximum increase in forest cover has been observed in West Bengal (3810 sq. km.) followed by Odisha (1444 sq. km.) and Kerala (622sq km).
Madhya Pradesh has the largest forest cover of 77,522 sq. km. in terms of area in the country followed by Arunachal Pradesh with forest cover of 67,321 sq. km. In terms of percentage of forest cover with respect to total geographical area, Mizoram with 90.38 percent had the highest forest cover in terms of percentage of forest cover to Geographical area followed by Lakshadweep with 84.56 percent. The present assessment also reveals that 15 States/UTs had above 33 percent of the geographical area under forest cover. Out of these States and UTs, eight states namely Mizoram, Lakshadweep, A&N Island, Arunachal Pradesh, Nagaland, Meghalaya, Manipur and Tripura had more than 75 percent forest cover while 7 States namely Goa, Sikkim, Kerala, Uttarakhand, Dadra & Nagar Haveli, Chhattisgarh and Assam had forest cover between 33% to 75%.
The total growing stock of India's forest and trees outside forests is estimated as 5,658.046 million cum which comprises 4,173.362 million cum inside the forests and 1484.68 million cum outside the forests. In the present assessment, total carbon stock in country's forest was estimated to be 6941 million tonnes. There was an increase of 278 million tonnes in the carbon stock of country as compared to the year 2004 as reported in ISFR 2011.