On May 19, a group of 35 students of class 10-12 from Green Fields Public School, Dilshad Garden, Delhi along with all their science teachers, teacher-in charge, vice principal and principal went to meet former President of India, Bharat Ratna Dr APJ Abdul Kalam at his residence in Delhi. Aadhar Kaul, class XII student of the school who was part of the group shares his experience
It would be one of the most memorable days in my whole life. As we entered 10 Rajaji Marg situated white Bunglow of Dr A PJ Abdul Kalam, we were subjected to rigorous security checking and mobiles 'confiscated' to be returned after we had done our interaction session with the former president, a hero for children of our age. As we checked in a classroom like looking conference hall, a white board, pictures of Mars mission, and a few paintings greeted us and also provided a clue as to what the 'missile scientist' will tell us. In a few minutes, he was there, "What can I give?" He repeated it a few times before subjecting us to an interesting quiz. "I am in the 83rd orbital of the Sun, guess my age?" It was fun as we got it wrong and he explained he is 82 years old as the person in first orbital is aged zero.
Now was the serious talking albeit in his typical professor like Tamil accent. He explained about leadership, people and science. "We have still have 5 billion years to go. Have a great aim. What comes to our mind seeing this tube light?" "Thomas Alva Edison!" "Greats like Edison, Graham Bell, Madam Curie, Wright brothers had great aims. I read rare books on these people and find they had great aim, acquired continuously knowledge, worked hard and followed their mission. You should become captain of your problems," delivering like a sermon with quizzing in between. He then told us about India's current Mars mission and how new research is going to help satellites produce and use solar energy.
All this sounded so refreshing that most of us who had come prepared to ask questions (carefully worded with the help of teachers and rehearsed several times) tried to evaluate in our minds if these were after all the questions we should be asking. Nevertheless, as planned, some of our students (not me) asked their questions ranging from contemporary teacher-student relationship to his best teacher and research work,, etc.
"My teacher S Subramanyam took best out of every child and I am sure there are teachers still out there who put their heart into teaching and student who give it all to learn critically."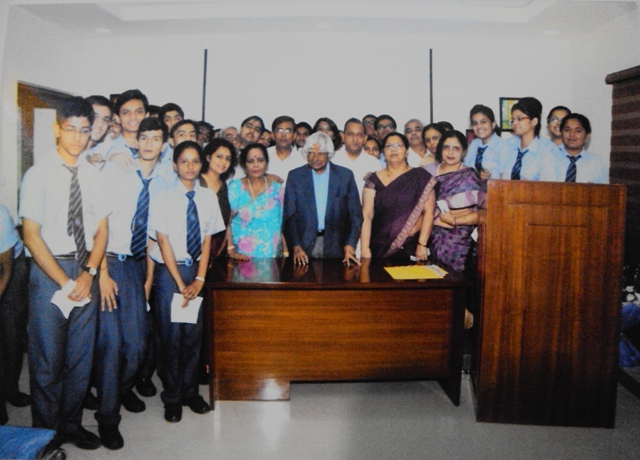 Now it was picture time and he was gracious to accommodate all our 'please sir, please sir…' As I didn't get my chance to ask a question, I felt sad inside. My teachers could see this and pushed me to go and ask as our 'rockstar' scientist and former president was sipping some drink in the lawn. I mustered all my wit and went a few steps towards him, "Sir, if you throw a stone in a crowd, there is a 50% chance that it will hit an unemployed engineer. What is leading to this mad rush?" "Nowadays, students opt more for engineering as it is a technological era, jobs are there. .." he paused and pointed at my chest, "they don't get jobs because they study to acquire jobs and not knowledge. We don't want job seekers but job creators." "Sir, you at some point said that science makes us realize God. But in my 14 years of study where science has been a subject, I don't feel like that?" "250 million stars in one system, some supernatural power is holding them. This power you can say, is God."
The great feeling from the interaction has not sunk in yet even after so many days and I'll be remembering this mesmerizing experience all through my life. Hats off to 'rockstar' science preacher, I am blessed!!