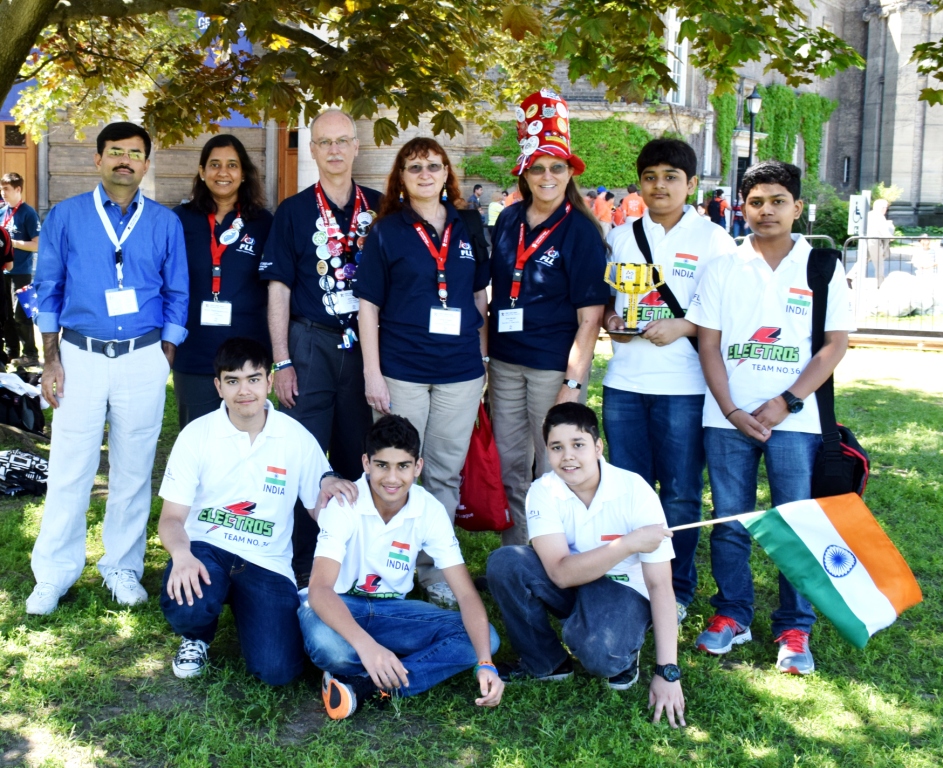 OP JINDAL UNIVERSITY CONFERENCE ON HIGHER EDUCATION
Education Reforms in education must confer to Indian expectations and needs
It is critical to examine the different global education models and experiences in the Indian context before implementing any of them in India. Also a student centric education would be the next step in the growth ladder of Indian education system. These were some of the censual statements arrived at a conference on enhancing higher education opportunities for high school graduates, promoting global excellence and international education in India by Sonipat (Haryana)-based Jindal School of Liberal Arts and Humanities in association with Claremont McKenna College (USA) at its campus on June 28th& 29th. The conference commenced with an inaugural address by Gudmundur Eiriksson, Ambassador of Iceland to India, followed by two keynote addresses by Venu Rajamony, Press Secretary to the President of India and  Raghu Rai, renowned photographer and photo journalist.
Sharing his views on this conference and its objective, Professor Dr. C. Raj Kumar, Vice Chancellor, O.P Jindal Global University, said, "Higher education in India is at a tipping point. Increasingly, classrooms are becoming global in nature and India needs to leverage that to its advantage. The existing dichotomy that prevails between the public sector efforts and the private sector initiatives in higher education need to be dismantled and a cohesive effort has to be made to enhance the quality and applicability of higher education in a global context. There is also a crying need for our education system to address the lack of quality in liberal arts and humanities colleges in India. We need to have many such schools to deepen democracy and produce an enlightened citizenry that is able to adapt itself to the changing demands and circumstances of the contemporary world. In this conference we have tried to determine what shape the discourse on higher education needs to take in India, in the near future."
Dr. Hiram E. Chodosh, President, Claremont McKenna College, USA, who delivered the distinguished public lecture, entitled 'Toward a Theory of Value for Global Higher Education', commented, "Institutions of higher learning in India and the United State bear a profound responsibility: to meet the educational imperatives of our day.  We are honored to work with our close colleagues at Jindal on this vital collaboration. Our societies must simultaneously surmount several severe challenges and work to seize a wide range of extraordinary opportunities. To succeed, we need to develop a theory of value that at once satisfies and yet goes beyond the pressing needs for employability and good citizenship. Three such values or capacities are of critical, sustained importance:  creativity, empathy, and courage. To grow these values, higher education needs to become more student-centric and more open to learning through experience that engage students outside the classroom in research, service, social innovation, and entrepreneurship"
Renowned social commentator and public intellectual Shiv Visvanthan felt that the Indian education system must help nurture individuals who are courageous enough to dissent, differ and deviate from the popular view. A liberal arts education must inculcate a value system "where there is a nurturing space for idiosyncrasy, eccentricity and dissent  which are some of the fundamental features of creativity."
Jerry Pinto, Author and Teacher, felt in the context of any education, let alone liberal arts and humanities, "the teacher must engage and involve the outside world and bring it inside the classroom" or help make students empathetic to the world outside the classroom, outside the framework of scoring high marks, rote learning and career building.
 MoneyGram Foundation donates three Mobile Science Labs
MoneyGram International, Inc. (NASDAQ:MGI), a leading global money transfer and payment services company, gave a grant to the Agastya International Foundation through the MoneyGram Foundation, will fund three (3) Mobile Science Labs for one year, each exposing over 7,000 children to hands-on science models. Each lab funded by the MoneyGram Foundation will travel to thirty (30) schools in the states of Uttar Pradesh, Maharashtra and Bihar, teaching children using hands-on science models in physics, chemistry, biology and mathematics. "The MoneyGram Foundation believes that education is at the heart of better economic opportunities, healthier families, and individual freedom and empowerment. India possesses great young talent and we wish to nurture this talent right at the beginning," says Grant Lines, Executive Vice President of Asia Pacific, South Asia and the Middle East at MoneyGram. "The MoneyGram Foundation supports high-impact education programs around the world. We are excited to work with Agastya International Foundation to provide this innovative learning opportunity for thousands of children in the important subject of science." Ramji Raghavan, Chairman, Agastya International Foundation said, "With the MoneyGram Foundation's support, over 20,000 children every year will experience the joy of hands-on, experiential learning which we believe will spark their curiosity and help to nurture their creativity like never experienced before."
21st Century Technology Skills to 150 schools in Delhi NCR
Microsoft India and Rotary International District 3010 have signed a Memorandum of Understanding (MoU) to provide the Microsoft IT Academy Program in 150 Delhi NCR schools covering over 150,000 students and 7,500 educators. Microsoft IT Academy is a subscription-based program designed for accredited academic institutions worldwide. It empowers educators to help students hone their skills and recognize their career potential through relevant and high quality technology training resources.
The program's resources include online learning content, official Microsoft course materials, curricula, learning management system and instructor tools. Further, each school gets access to student and faculty certifications to train educators to use world-class curriculum in their classrooms.  The curricula spans computer basics to high-level programming including Microsoft Robotics Developer Studio and other cutting-edge application development tools.
"Providing Indian youth with 21st century skills and knowledge is critical in helping them succeed in an increasingly connected world. Our MoU with Rotary International District 3010 is a step in providing these skills to 150,000 school students in Delhi through the Microsoft IT Academy Program," said Karan Bajwa, Managing Director, Microsoft India. "As per industry estimates, 50% of today's jobs require some degree of technology skills and this will increase to 77% in the next decade. At Microsoft, we are committed to partnering with governments, academic institutions and not-for-profit organizations to enable Indian youth through our education focused programs."
"By collaborating with Microsoft, we are able to provide a roadmap to technology proficiency and industry-recognized Microsoft certification credentials that are  not only well aligned to Rotary's goal of 100% literacy by 2017 but go a step further to provide Digital Literacy skills. We hope to spread this initiative to the rest of the country, as well as globally, over a period of time," said Rtn Sanjay Khanna, District Governor, Rotary International District 3010.
Art Periodical by DPS student
Sahil Bansal, a student of Class 11, of DPS Mathura Road has started Inkspire, an art magazine, which aims to fuel the creative fire of budding artists by providing them a platform to showcase their talents. A special school  assembly was held to highlight the achievement on July 10.
Principal, MI Hussain,  talked about Sahil's remarkable achievement in creating India's first art magazine, which placed him in the Limca Book of Records as the youngest Editor in Chief of a self founded art magazine.  He also complimented Sahil's parents for being a constant source of inspiration and motivation for their son. The Chief Guest, Sandeep Sethi, Education Officer, CBSE, held up the magazine for all to see.
IndiaCollegeSearch.com scholarship for best college review
After successfully launching the all new 'College Reviews' feature in March, IndiaCollegeSearch.com, India's largest college search and application platform has announced winner of its first reviews scholarship. An alumnus of Indian School of Business, Ankur Garg's review was chosen as the best college review and was awarded scholarship worth Rs 50,000. Mousumi Deka and Vivek Mittal from NIT Silchar and Fore School of Management respectively were declared as runners up, who were awarded appreciation certificate and assorted gifts.
Expressing his delight on winning the scholarship, Ankur Garg said "IndiaCollgeSearch.com has provided me an opportunity to share my most memorable experiences at ISB Hyderabad. I will use the scholarship amount of Rs 50,000 to repay a percentage my education loan that I had undertaken for my MBA course at ISB Hyderabad. ICS is a great platform for students to help decide a college of their choice and I strongly recommend it to all aspirants looking for college admissions."
Commenting on this initiative, Anirudh Motwani, Founder and Chief Executive Officer, IndiaCollegeSearch.com said, "Acknowledging the significance of word of mouth and peer feedback, the reviews section was designed to encourage students to share first-hand information, which is not available on public forums. We are confident that these reviews will create a reservoir of reliable information and will help potential students choose a right fit for themselves."
Out of a pool of 400+ insightful reviews in the first month, top four reviews were shortlisted on the basis of the quality of content and helpfulness. Personalized reviews that reflected a comprehensive view of the college, faculty and course curriculum were shortlisted as best reviews. Further, quality of the content in terms of grammatical correctness and range of information covered were also considered.
Another shortlisting criterion taken into account was the number of students who found the review helpful review, which was reflected by the number of votes to a particular review.
After the launch scholarship i.e., for the month of April, the next scholarship is available for the best reviewer of the quarter. Over 800 reviewers are already contending for the second scholarship to be rolled out in the first week of August 2014.
Whistling Woods International Mumbai gets SkillTree Knowledge Consortium recognition
On June 24, 2014, SkillTree Knowledge Consortium presented Whistling Woods International (WWI) a certificate recognizing it as a 'Great Place to Study' in India. The recognition is a result of Whistling Woods' contribution to the growth of the Indian education system and efforts to maintain global standards. Meghna Ghai Puri, president of WWI was awarded the certificate by Member of Parliament at the House of Commons, Bob Blackman, in London recently. To demonstrate the country's vast potential as a hub of learning and development, the Consortium awarded 20 of India's most prominent colleges with a Skill Tree Great Place to Study certificate. UK public personality, business leaders, and lynchpins from the education sector also attended the event.
Meghna Ghai Puri, on the occasion says, "UK stands for advance education, hence being distinguished for contributing towards educating students and giving them the opportunity to learn about on-the-job challenges as well as make that transition from being students to being professionals is warmly accepted and humbly appreciated."
 Pearson invests in a preschool venture
Pearson Education on June 30 announced  an investment of INR 30,00,000 ($50,000) in Sudiksha Knowledge Solutions, the company behind a chain of pre-schools offering affordable education in Hyderabad. The investment was made through the Pearson Affordable Learning Fund (PALF), an investment fund established in July 2012 to support early-stage high-quality education enterprises serving lower socio-economic groups across the world. Sudiksha operates pre-schools in underprivileged areas in the urban Hyderabad. They have implemented an innovative model that recruits educated housewives locally to run branches under an incentivised profit sharing scheme, thus developing the skills of women alongside children. These women are usually educated women with no previous professional employment. They are trained to run franchise locations near their homes promoting child-centred learning so students 'learn by doing'. Presently Sudikshareports having made a difference in the lives of approximately 800 underprivileged families as a result of their pre-school network
Sudiksha was one of the two winners of the 2013 Edupreneurs programme based on a ranking done by its peers in India. Peers consistently scored Sudiksha high on its business model, commitment to education and efficacy, as well as the strength of the founder, Naveen Kumar.
IWP Celebrated "Melange" – The Blend of Women Empowerment
IWP a leading institute in women education in vocational as well as professional studies, on June 28 celebrated its annual festival "Melange-The Blend of Art 2014" at Janakpuri, New Delhi.
Melange, gave the students a plethora of information and open access to professionals in the Fashion and lifestyle. With its attempt to networking the students with industry stalwarts through meet, greet and guidance, it tried to connect students with active professionals who have themselves gone through business's complex system. They provided the students with advice and ideas and expected to excel. The girls at IWP were exposed to the realities of post education and develop a working intuition of how to navigate their future. Tina Chatwal, Ms. India Asia Pacific 2002. Sumiko Murgai Nanda, renowned fashion photographer, Jamal Sheikh (Founder Editor, Men's Health Magazine), were some of the industry leaders who mentored students with their vast experiences and ideas in the noble endeavor by IWP.
The Students of the polytechnic showcased a number of dresses during the fashion show, which were not only designed by them but also buying the fabric, drafting, sketching, stitching, embroidering, and finishing of the garment is done by the students themselves and this very feature of the polytechnic's educational aspect gives the students, the much needed confidence and zeal to continue performing well. And in the end, student awards were conferred on the winners in each show by their parents.
TSCFM Awards for excellence
Thadomal Shahani Centre for Management (TSCFM), Mumbai which has been doing a pioneering work in unearthing the innovative talent available with mid-level managers of the companies, has unveiled a novel plan to shed light on all those responsible for adoption of out-of-the-box ideas at the level by decorating them with TSCFM Awards. The objective behind this Award is to ignite a spark among the lesser known managerial personnel to go in for innovative practices. This is the first time that an educational institute is conducting an award ceremony that is recognizing innovation and excellence in key functional areas of Marketing, HR and Finance.
VLCC Institute of Beauty & Nutrition Convocation Ceremony
VLCC Institute of Beauty & Nutrition held its 13th Annual Convocation at the FICCI Auditorium in New Delhi on July 11.Governor of Manipur, V.K. Duggal, DG, National Skill Development Agency (NSDA), J.P. Rai, DG Directorate General of Employment & Training (DGET), MD & CEO, National Skill Development Corporation (NSDC), Dilip Chenoy, the Chairman & Managing Editor, India TV, Rajat Sharma, the Commissioner, Jaipur Development Authority, Shikhar Agarwal, and noted Actor & Social Activist Shabana Azmi attended .
Over 400 of the nearly 5,000 students who successfully completed their courses at the VLCC Institute of Beauty & Nutrition during 2013-14 attended the Convocation ceremony and were personally presented the diplomas.
Vandana Luthra  who is also Chairperson of the NSDC's backed Beauty & Wellness Sector Skill Council in India  said, "India is uniquely positioned to leverage its favorable demographic profile to take the final step in its transition from a developing to a developed nation. "The future of our country rests on the skill-sets of our youths. It is imperative that all of us work towards creating an ecosystem where skills are recognized and valued. Only when we do that can we truly leverage India's favorable demographic profile to emerge as a developed nation, and possibly even become the 'Skills Capital' of the world by the turn of this decade."
Mentorship Seminar for aspiring Engineers at IIT Delhi
You Score Solutions Pvt. Ltd operating in the area of online assessment and skill development, in collaboration with IIT Delhi Alumni Association hosted a mentorship seminar for aspiring students on June 22. Ashok Kumar (IPS & Head of IIT Delhi Alumni Association) was the chief guest.
YouScore enrolls students to this program and provide them with a technology enabled self preparation and assessment platform. Using this platform an engineering aspirant can practise mock tests and get his strong/weak areas and personalized examination strategy.
Genesis Global School 'Core Values category' champ  at the FLL International Open, Toronto
Five students (Piyush Singh, Amogh Sharma, Shashwat Jha, Udyat Anand, and Drona Sharma) of the Noida-based Genesis Global School, who represented India, bagged the first position in the First Lego League International Open's Core Values category held in Toronto recently. First Lego League is a robotics program for 9 to 16 year olds, which is designed to get children excited about science and technology and teaches them valuable employment and life skills. Students actively participated in activities like designing, building, and programming robots using the LEGO MINDSTORM KIT applying math and science concepts. The league stressed upon team-building, critical thinking and presentation skills exercises, with discussions and research around the challenges faced by the scientists today.Mark Breadner, Executive Director of FIRST Canada, Skip Gridley (USA), FLL Global Judge Advisor and Dave Ellis, Director FLL, Toronto were amongst the key jury members. India performed exceptionally well in categories such as Core Values, Robot Design, Research Project and Robot Game amongst the other 72 teams. . G P Tiwari, I/C Robotic Club and team coach said, "Winning  the 1ST position in the internationally acclaimed robotic competition was quite a challenge for the school heroes who called themselves the Electros." The competition witnessed around 20 countries with participation of Asian countries such as India, Israel, Saudi Arabia, Japan, Singapore, South Korea, Turkey and China.
Mini MBA for school students
Era Business School (EBS), awarded certificates to the school children who successfully completed world's first Mini MBA program by any management institution in a convocation ceremony at its Campus. Altogether 38 students were presented Mini MBA Certificate during the ceremony. Under the mini MBA program the endeavor was to bring the important nuances of MBA to the budding leaders at the school level. Dr. Sudhanshu Bhushan, Vice Chancellor, Shri Venkateshwara University was the chief guest at the Ceremony.
 JNU Students win Global Multilingual Essay Contest
Tajammul Haque, Irfan Ahmad, Farhan Ansari and Mohammad Abul, all JNU won the prestigious multilingual essay contest – Many Languages, One World. As part of this contest, the winners were invited to New York to participate in a five-day Global Youth Forum. The event's culmination was on 27 June 2014, when all contest winners convened at the United Nations Headquarters in New York and made presentations based on principles of the United Nations Academic Impact.
The global contest was organised by ELS Educational Services, Inc., and the United Nations Academic Impact (UNAI). The Many Languages, One World essay contest invited students from around the world to compose an essay on multilingualism and global citizenship. The essay was to be written in one of the six official languages of the United Nations  Arabic, Chinese, English, French, Russian or Spanish  that was neither the student's native language nor the language of instruction in the student's pre-university study. More than 4,000 people from 128 countries participated in some phase of the contest. Contestants ranged from college freshmen to Doctoral candidates from universities all over the world, and their fields of academic study were very diverse.
Tata Power's installs Computer Aided Learning Stations in 8 Mumbai Schools
Tata Power has put nine 'Computer Aided Learning' (CAL) stations in eight more schools (the DBC School; Vinay High School; Chembur Karnataka Sangh; Janta Welfare English High School; Chembur Welfare Marathi Shala; Sharad Acharaya School; Narayan Aacharya School and Model High School) in Mumbai under its initiative 'VIDYA'.  With this initiative, Tata Power aims to bridge the digital divide, and provide an exciting learning mechanism that would enable the children to become computer- literates and access information on-demand, thereby opening a world of opportunities for them. Speaking on the initiative at a special inauguration ceremony  attended J B Girase, District Women and Child Development Officer, and Bapurao More, AO (Education), M (West) Ward, Municipal Corporation of Greater Mumbai, Ashok Sethi, Chief-Operations, Tata Power, said, "By installing CALs in various schools, we aim to help the students in securing opportunities that will help them grow as individuals."
The program is based on the understanding that computers play a significant role in the all-round growth of a child and is crucial for a holistic education process. Be it studies, entertainment, research or just browsing, kids spend a lot of time with their 'companion', and it certainly occupies a very important place in their daily lives. This program is in line with Dell's latest "Back to School" campaign which showcases the benefits of exposing young, budding minds to the role technology can play in providing a competitive edge through not only student years, but through one's lifetime.